General Features of SPring-8
Synchrotron radiation ranging from the soft X-ray (photon energy 300 eV) to hard X-ray region (300 keV) is available with the highest brilliance in the world. High-energy gamma rays (1.5-2.9 GeV) and infrared radiation are also available.
Many undulators (up to 38) can be installed and they can be used independently.
A long insertion device can be installed. Its length can be as long as 25 m, while the length of a standard device is 4.5 m. This space can also be used for installing other advanced light sources.
Advanced experimental facilities (Medium-length Beamline Facility, RI Laboratory, 1 km-long Beamline Facility) are available.
Synchrotron Radiation Spectrum of SPring-8
SPring-8 produces light that is about one billion times more brilliant than conventional X-ray sources.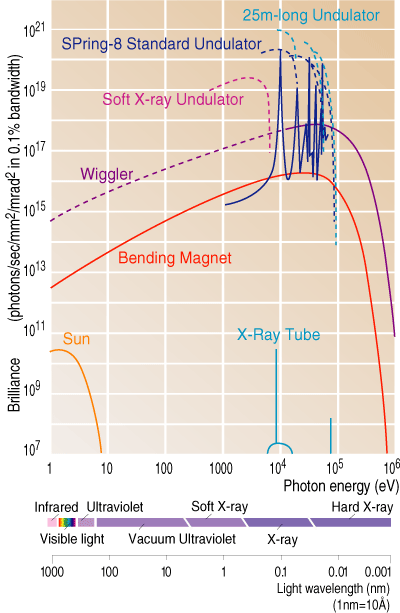 Third-Generation Synchrotron Radiation Facility
A synchrotron radiation facility is composed of an injector and a storage ring. The injector generates an electron beam and accelerates electrons to high energies. The storage ring has a shape of a ring and accumulates the accelerated electrons in it. A facility with a high-energy storage ring of more than about 5 GeV is called a large synchrotron radiation facility. A third-generation synchrotron radiation facility is a facility designed especially for installing as many insertion devices as possible in a dedicated storage ring. There are three large third-generation synchrotron radiation facility in the world: SPring-8, APS and ESRF.
Facility


SPring-8

APS
Advanced Photon
Source


ESRF
European
Synchrotron
Radiation Facility


Location

Harima Science Garden City
Hyogo, Japan

Argonne, USA

Grenoble, France
Energy

Number of Beamlines

Circumference

8 GeV

62

1436 m

7 GeV

68

1104 m

6 GeV

56

844 m

Preparation

Construction

User Operation

1987-1989

1991-1997

1997-

1986-1988

1989-1994

1996-

1986-1987

1988-1994

1994-
Last modified
2020-06-02 11:36