Inquiry number
INS-0000001515
ABSTRACT
The University-of-Tokyo Outstation Beamline for Materials Science Beamline:
BL07LSU
The Synchrotron Radiation Research Organization was organized in the University of Tokyo to develop material science with frontier spectrscopies using high brilliant synchrotron radiation. In collaborations with SPring-8/RIKEN and SPring-8/JASRI, the material division of the organization has constructed a high brilliant soft X-ray beamline with 8 segments of the parallel/perpendicular figure-8 undulators (Fig.1). Four end-stations of advanced spectrscopies are set at the beamline and the proposals of the joint researches are accepted biannually through a webpage of the Institute for Solid State Physics, the University of Tokyo:
http://www.issp.u-tokyo.ac.jp/contents/kyoudou/index.html

Fig.1 Overall view of BL07LSU
AREA OF RESEARCH
Solid State Physics, Physical Chemistry, Applied Chemistry, Applied Physics
KEYWORDS
soft X-ray, time-resolved spectroscopy, coherence, nano-beam photoemission spectroscopy, extremely high-resolution soft X-ray emission spectroscopy, three-dimensional scanning photoelectron microscope
SOURCE AND OPTICS
The beamline, BL07LSU, provides soft X-ray photons (hv=250~2000 eV) with a high energy resolving power (E/ΔE >104), a high photon flux (>1012 photons/s/0.01%B.W.), circularly and linearly polarizations, and a small beam size (<100nm~μm) at the sample position.
The insertion device of the beamline is a long undulator composed of 8 segments of the parallel/perpendicular figure-8 undulators connected with 7 phase shifters. Four segments are set at the long straight section in the SPring-8 electron storage ring and the rest four will be installed in summer, 2010. The monochromator of the beamline is an entrance-slitless variable-included-angle Monk-Gillieson mounting type with a varied-line-spacing plane grating(VLS-PGM). As shown in the Fig.2, the optical layout is composed of three mirrors (M0,M1,M2) , Grating(G), and exit slit (Sext). Every end-station (Exp. station) consists of a post-focusing system (a mirror or a zone-plate) and the experimental chamber.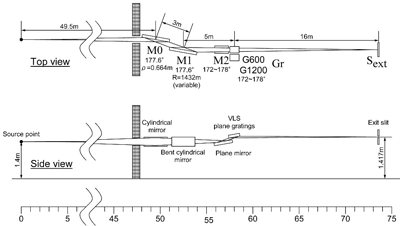 Fig.2 Layout of monochromator optics of the BL07LSU beamline
EXPERIMENTAL STATIONS
1) Time-resolved soft x-ray spectroscopy station (TR-SX spectroscopy)
The TR-SX spectroscopy station is equipped with the femtosecond-pulse laser station (BL07LASER) and the two-dimensional angle-resolved time-of-flight electron spectrometer. Combining the high-brilliant soft X-ray pulse with them, time-resolved photoemission spectroscopy measurements are performed with high energy resolution. Changes of electronic, chemical, structural and vibrational states are traced in real time during dynamical phenomena, such as photo-induced transitions and surface chemical reactions, to reveal their mechanisms
2) Free-Port station
The station is for researchers worldwide to bring in their machines and to perform experiments with the high-brilliant soft x-ray beam.
3) Three-Dimensional Scanning Photoelectron Microscope Station (3D nano-ESCA)
This station is equipped with a scanning photoelectron microscope system with nano-focused soft x-ray using a Frensnel zone plate, combined with depth-profiling analysis translated from angular dependence of photoelectron spectra. The system is capable to observe three-dimensional spatial distribution of chemical -bonding states and electronic structures in solid materials with a spatial resolution of less than 100 nm.
4) Ultra-high resolution soft X-ray emission spectroscopy station (HORNET)
This station is equipped with the world's highest energy-resolution soft X-ray emission spectrometer that enables element- and symmetry-selective observation of valence electronic structure for any materials in gas, liquid or solid phases. The sample can be put in ultra-high vacuum or in air. Expected studies are electronic structure of liquids and solutions, interaction between water and biomaterials including proteins and cellular tissues in a living cell, catalytic sites in fuel cells and so on.
PUBLICATION SEARCH
* Sorry, Some parts of results are displayed using Japanese characters.
CONTACT INFORMATION
Iwao Matsuda
Outstation beamline of the University of Tokyo:BL07LSU
Institute for Solid State Physics, the University of Tokyo,
Synchrotron Radiation Research Organization, the University of Tokyo
TEL: +81-(0)791-58-0802
Ext.:4111 PHS:3619
FAX: +81-(0)791-58-1886
E-mail:

Yoshihisa Harada
Outstation beamline of the University of Tokyo:BL07LSU
Institute for Solid State Physics, the University of Tokyo,
Synchrotron Radiation Research Organization, the University of Tokyo
TEL: +81-(0)791-58-1973
Ext.:6620 PHS:3966
FAX: +81-(0)791-58-1972
E-mail:

Takashi Kimura
Outstation beamline of the University of Tokyo:BL07LSU
Institute for Solid State Physics, the University of Tokyo,
Synchrotron Radiation Research Organization, the University of Tokyo
TEL: +81-(0)791-58-1973
Ext.:6620 PHS: 3843
FAX: +81-(0)791-58-1972
E-mail:

Website
http://www.issp.u-tokyo.ac.jp/labs/sor/HP_harima/harima_new/english.html