Inquiry number
SOL-0000001301
Beamline
BL08W (High Energy Inelastic Scattering)
Scientific keywords
| | |
| --- | --- |
| A. Sample category | inorganic material |
| B. Sample category (detail) | metal, alloy, superconductor, magnetic material, solid-state crystal |
| C. Technique | inelastic scattering |
| D. Technique (detail) | Compton scattering |
| E. Particular condition | polarization (linear), room temperature |
| F. Photon energy | X-ray (> 40 keV) |
| G. Target information | electronic state |
Industrial keywords
| | |
| --- | --- |
| level 1---Application area | storage device |
| level 2---Target | HD,MO |
| level 3---Target (detail) | |
| level 4---Obtainable information | electronic state |
| level 5---Technique | X-ray diffraction |
Classification
A80.12 semiconductor, A80.14 magnetic materials
Body text
コンプトン散乱測定は電子運動量分布を調べることのできる有効な手法です。この手法を用いることで、物質のフェルミ面の形状などの電子構造や各軌道の電子数などを測定することができます。測定は、バルク測定であり、雰囲気や温度、磁場などの試料の環境に影響されません。
プロファイルを再構成することにより2次元、3次元の電子運動量密度の測定が可能です。図に示すのは、実験により得られたSr2RuO4の二次元電子運動量密度分布です。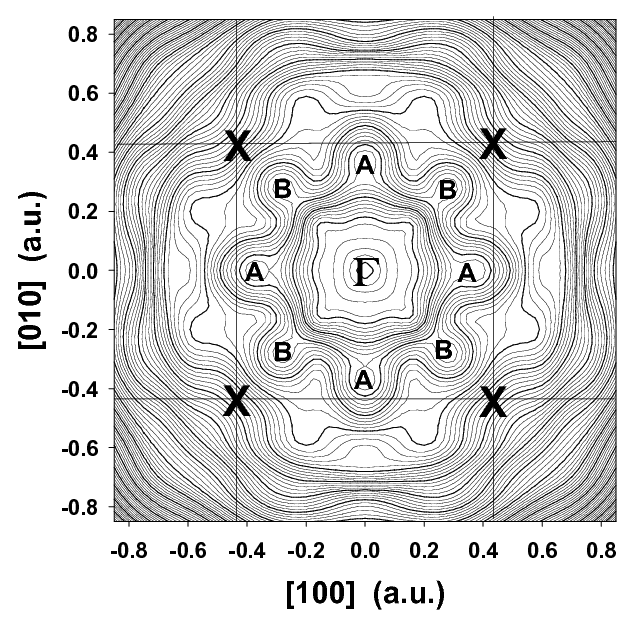 図 Sr2RuO4の二次元電子運動量密度分布
Source of the figure
Beamline Report
Page
35
Technique
コンプトン散乱実験は、単色のX線を試料に入射し、散乱してきたX線のエネルギープロファイルを測定します。
散乱されたX線は、電子の運動量のドップラー効果によりエネルギーに広がりを持ちます。このエネルギープロファイルが、電子運動量分布を直接的に対応しており、コンプトンプロファイル J(pz) と呼ばれます。プロファイルの積分値は試料の全電子数になります。
Source of the figure
No figure
Required time for experimental setup
4 hour(s)
Instruments
References
Document name
N. Hiraoka, et.al., Physical Review B, 67 (2003) 94511
Related experimental techniques
陽電子消滅法、角度分解光電子分光、電子散乱

Questionnaire
The measurement was possible only in SPring-8. Impossible or very difficult in other facilities.
This solution is an application of a main instrument of the beamline.
Similar experiments account for more than 30% of the beamline's subject.

Ease of measurement
Easy
Ease of analysis
Middle
How many shifts were needed for taking whole data in the figure?
More than ten shifts