BL46XU Hard X-ray Photoemission Spectroscopy
問い合わせ番号
INS-0000001491
Hard X-ray Photoemission Spectroscopy
 Hard X-ray Photoemission Spectroscopy (HAX-PES) has a large detection depth that is sufficient for the observation of bulk sensitive electronic states in a precise and non-destructive manner.
Conventional PES with low excitation energy are mainly ultraviolet photoemission spectroscopy (UPS) that utilizes radiation from He discharge tube or synchrotron radiation with energy of from several-tens to several-hundreds eV, and X-ray photoemission spectroscopy (XPS) that utilizes radiation with energy of around 1000 eV from Al or Mg-anode X-ray tube. One of disadvantages of these soft-X-ray methods is that obtained data is strongly dependent on the surface condition of the sample because detection depth is shallow due to a short inelastic mean free path of photoelectrons inside the solid material. Therefore, it has been difficult to observe bulk electronic states that contribute to the solid-state properties. One solution for this has been depth-profiling with sputtering, however there has been a concern about property changes during the sputtering process.
On the other hand, our system utilizes hard X-ray (6-8 keV) from high brilliant synchrotron radiation of SPring-8 for high excitation energy photoemission spectroscopy, achieving a probing depth of as deep as around 20 nm that enables us to observe electronic states inside the material non-destructively.
The HAX-PES system at BL46XU is equipped with a Scienta Omicron photoelectron energy analyzer, R-4000. Besides standard bulk-sensitive measurements, we can get a surface-to-bulk profile of electronic states in angle-dependent photoemission spectroscopy experiments where probing depth can be controlled by changing the detection angle of photoelectrons to the sample surface.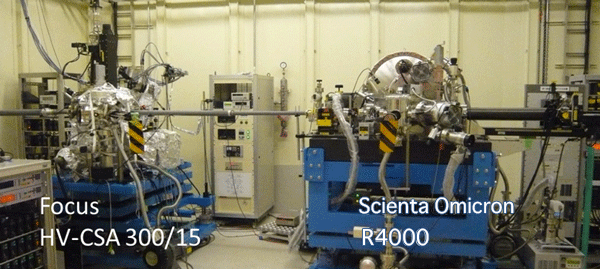 Hard X-ray Photoremission Spectroscopy system