Inquiry number
INS-0000000302
ABSTRACT
BL09XU is dedicated to hard X-ray photoelectron spectroscopy (HAXPES). This beamline is a standard hard X-ray beamline with a 32 mm-period linear undulator and a liquid-nitrogen cooled monochromator. Different types of HAXPES instruments are installed in tandem in experimental hutch 1 and 2, allowing the use of each instrument depending on the purpose of measurement. In BL09XU, the advanced HAXPES measurement using the high-performance optical system is available, including double channel-cut monochromators, double x-ray phase retarders, long-length focusing mirrors, and so on. An example of measurement using these advanced optics is a resonant HAXPES measurement. By obtaining HAXPES spectra with sweeping the incident x-ray energy across an absorption edge, we can perform elemental and orbital selective electronic structure analysis.
AREA OF RESEARCH
Electronic properties at the buried interface with high energy resolution
Element and orbital specific electronic state using the tunable photon energy
Three-dimensional spatial resolved analysis of the chemical states using the combination micro focusing beam and angle-resolved measurement
X-ray polarization tunability with phase retarder and analysis for observing magnetic effects
Various applications both in basic and applied research fields under low temperatures
KEYWORDS
Technique
HAXPES, Combined measurement with X-ray absorption spectroscopy (XAS)
Equipment
HAXPES analyzer, Long-length focusing mirror, Channel-cut monochromator, X-ray phase plate, Wide-acceptance-angle electrostatic lens (WAAELs), Silicon drift detector (SDD) for XAS measurement
SOURCE AND OPTICS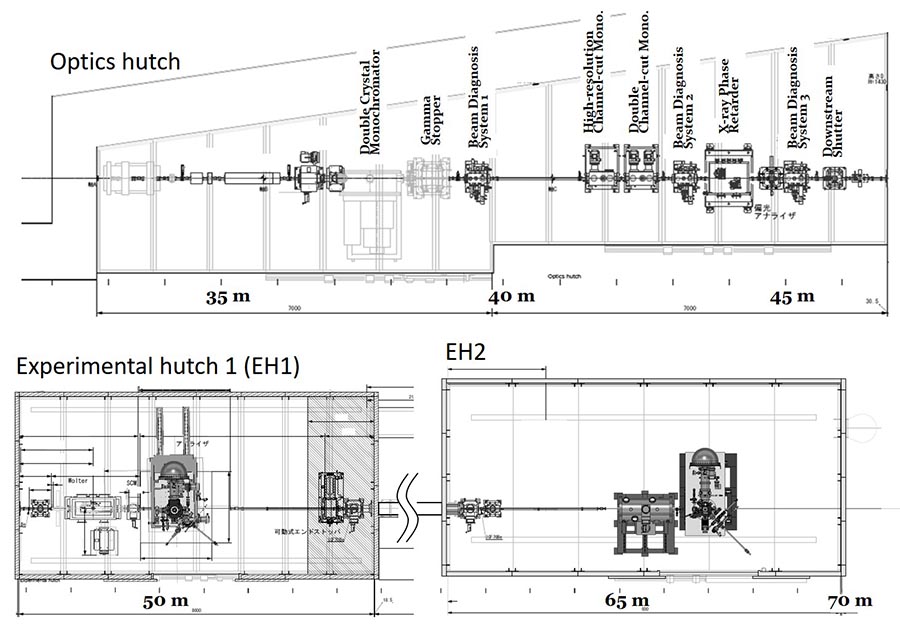 X-rays at Sample

| | |
| --- | --- |
| Energy range | 4.9-12 keV (Si 220 DCCM, Si 311 DCCM) / 6,8,10 keV (Si 333/444/555 CCM) |
| Resolution of X-ray | <300 meV @ 4.9-12 keV (Si 220/311 DCCM), 36 meV @ 7.94 keV (Si 444 CCM) |
| Flux | 6.0 × 1012 phs/s (E=7.94 keV @ 100 mA, Si 311 DCCM) |
| Beam size(FWHM) | 1 (V) × 20 (H) µm2 (EH1), 1 (V) × 11 (H) / 1 (V) × 1 (H) µm2 (EH2) |
| Linear/Circular polarization rate(X-ray phase plate) | >90% @ E=5.95-9.5 keV |
EXPERIMENTAL STATIONS
High-energy-resolution HAXPES
Three-dimensional special resolved HAXPES
PUBLICATION SEARCH
* Sorry, Some parts of results are displayed using Japanese characters.
BL09XU PUBLICATION SEARCH / BL47XU PUBLICATION SEARCH
CONTACT INFORMATION
Please note that each e-mail address is followed by "@spring8.or.jp."
Akira YASUI
SPring-8 / JASRI
1-1-1 Kouto, Sayo-cho, Sayo-gun, Hyogo 679-5198
Phone : +81-(0)791-58-0833
Fax : +81-(0)791-58-0830
e-mail : a-yasui
Yasumasa TAKAGI
SPring-8 / JASRI
1-1-1 Kouto, Sayo-cho, Sayo-gun, Hyogo 679-5198
Phone : +81-(0)791-58-0833
Fax : +81-(0)791-58-0830
e-mail : ytakagi
Last modified
2022-10-31 13:06