Inquiry number
INS-0000000352
ABSTRACT
The high pressure research beamline BL10XU is designed to perform the X-ray diffraction structure analysis under high-pressure and low/high temperature, using the high brilliance X-rays from the in-vacuum type undulator. The monochromatic and focused X-rays (14 ∼ 58 keV) irradiate the sample enclosed in a DAC system, which can generate the pressure up to 300 GPa. The diffracted X-rays from the sample are detected by the Imaging Plate (IP) or X-ray CCD system. In the experimental station, low or high temperature conditions are realized by using a cryostat (10 ∼ 300 K) or a double-sided laser heating system (1000 ∼ 3000 K), respectively. The performed scientific fields are the structure analysis of super conductors and novel materials under pressure, studies of equation of states, structural phase transitions of light elements, molecular dissociation, phase transitions and decomposition of earth interior materials.
AREA OF RESEARCH
Structure analysis and phase transitions under ultra high pressure (DAC experiment)
Earth and planetary science

KEYWORDS
Scientific field
High pressure, Pressure induced structural phase transition, Phase diagram, Equation of state, X-ray diffraction, Earth and planetary science
Equipment
Diamond anvil cell, Imaging plate, X-ray CCD, Cryostat, Laser heating, Ruby fluorescence method, X-ray refractive lens
SOURCE AND OPTICS
In BL10XU, a high-intensity and quasi-monochromatized SR beam is obtained by an in-vacuum undulator (SPring-8 standard type). The undulator beam is monochromatized by a Si (111) double crystal, resulting in intense X-rays (>1013 photons/s) with a sufficient energy resolution (ΔE/E ∼ 10-4). In order to keep the high-intensity SR beam over the wide energy range, the synchronization of undulator gap with the Bragg angle of the monochromator is performed by a developed computer system.
A stacked compound X-ray refractive lens (CRL) was installed as an incident beam focusing optics. The advantages of CRL are its easy operation in installation, energy tunability, and high X-ray transmission. More than 10 times intensity gain is obtained by CRL when X-ray energy is 16.8 keV. The spot size at sample position (FWHM) is 0.08 mm (V) × 0.12 mm (H), which is cut to 10 ∼ 200 µm square by four-blade slits during experiments (Fig.2). Even in this case, the divergence of focused beam is still very small, about 10 arc seconds. This is a good resolution enough to do X-ray powder diffraction measurements using DAC. Typical exposure time is about few minutes except for materials with small scattering such as amorphous material and very light elements like H2, Li etc. The present spherical shaped plastic (PMMA) CRL is changed to a parabolical shaped Be-metal in order to avoid radiation damage of lens and to get smaller spot-size and high intensity gain.
Fig.1. Schematic view of BL10XU optics hutch
X-rays at Sample

| | |
| --- | --- |
| Energy range | 20 ~ 58 keV |
| Energy resolution | Δ/E ∼ 10-4 |
| Beam size | φ 0.01 ∼ 1.0 mm |
| Flux density | ∼ 1.0 × 1013 photons/sec/100mA/mm2 |
EXPERIMENTAL STATIONS
The high-pressure X-ray powder diffraction experiments using diamond anvil cell (DAC) are performed in the experimental hutch 2 (Fig.1). Design of the diffractometer was optimized for a diamond anvil cell (DAC), a device for generating ultra-high pressure in excess of 300 GPa. Diffraction experiments can be carried out at high temperatures to 3000 K and at high pressures by utilizing a double-sided laser heating system. Measurements at low temperatures down to 10 K and high pressures are also feasible. X-ray energies between 14 and 58 keV are normally used here. Flat imaging plate (Rigaku R-AXIS IV, 30 × 30 cm2 and 0.10 mm pixel size) and X-ray CCD (Brucker ) are used as the area detectors with optics devices (a goniometer for DAC, an ionization chamber as a beam intensity monitor, four-blade slits, attenuators, and a beam stopper). The Camera distances of IP and CCD can be varied from 150 to 450 mm, and from 80 to 230 mm, respectively. This diffractometer mounts a microscope to observe the DAC position. The position of the sample can be adjusted to the X-ray beam position within a precision of 0.001 mm. The BL10XU has high-flux and high-resolution beam characteristics, which realize an accurate structure analysis (Rietveld and MEM analysis), light element X-ray diffraction, ultra-high pressure experiment, and in-situ low/high temperature experiments under pressure.
Four types of software are used in this station:
Control of the IP detector
R-AXIS IV is controlled using program "rint" developed by Rigaku Co, which programruns on Windows.
Control of the DAC stage, goniometer and stages for optical elements
GP-IB based programs have been developed by users. These programs are to be used at another high-pressure station of BL04B2/SPring-8. Running on PC.
Pressure measurement
Spectrometer for the analysis of ruby fluorescence wavelength is controlled with a program supplied by Nippon Bunko Co. Running on PC.
Processing of diffraction data
Data processing is carried out on a LINUX machine by executing program PIP developed by Dr. Fujihisa. Program "rint" also can be used for data processing.

Fig.3. Schematic view of BL10XU and high-pressure research station
The DAC diffractometer can mount some attachments depending on needed experimental conditions. Using ω-stage, powder sample oscillation and single crystal motion is available. The He flow type cryostat combined with a He-gas driven DAC can be mounted for low temperature experiments down to 10 K as shown in Fig.3. The microscope is also used to measure ruby fluorescence emitted from ruby chips encapsulated with the sample. An optical spectrometer and CCD detector placed outside the experimental hutch is connected with the microscope through an optical fiber. The other optical fiber connects the microscope with a He-Cd laser used for the excitation of ruby fluorescence. This system allows us to determine pressure inside the sample chamber without unmounting the DAC from the diffractometer.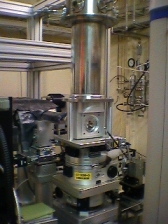 Fig.4. A cryostat with DAC mounted on the ω stage goniometer
Double-sided laser heating system is installed for ultra-high pressure and temperature experiment, mainly used for earth and planetary science study. Fig.5 shows a block diagram of LH-DAC system and an example of obtained X-ray diffraction profile. A 100 W multi-mode Nd:YAG-laser is focused onto both side of DAC with a spot size of 80 µm. A Temperature distribution with 10 µm resolution can be measured using thin optical fibers. The mirrors, which deliver laser beams to DAC, are made from silver coated glassy-carbon, which incident and diffraction X-rays pass though. The condition of 150 GPa and 2500 K has been realized by this system. New Nd:YLF laser (for single mode use) has been installed to deliver 10 µm laser spot size. The improvements of light delivery optics and temperature-power feedback system are in progress.
(a)
(b)
©

Fig.5. (a) Block diagram of a laser heated DAC system of BL10XU.
(b) Laser delivery optics of double-sided heating system.
© Obtained X-ray diffraction profiles of MgCO3 with Pt as pressure marker at 50 GPa and 1500 K.
Facilities

Slit optics
Goniometer
Imaging plate (IP)
X-ray CCD
Pressure measurement system by Ruby fluorescence (on-line)
Attached devices

A: cryostat and thermostat (10 K ∼)
B: Laser heating system (∼ 3000 K)

Diamond anvil cell (Bring your own)
Sample preparation rooms for high-pressure experiment

Microscopes
Electric discharge-drilling machine
Pressure measurement system (off line)
PUBLICATION SEARCH
* Sorry, Some parts of results are displayed using Japanese characters.
BL10XU PUBLICATION SEARCH
CONTACT INFORMATION
Please note that each e-mail address is followed by "@spring8.or.jp."

Yasuo OHISHI
SPring-8 / JASRI
1-1-1 Kouto, Sayo-cho, Sayo-gun, Hyogo 679-5198
Phone : +81-(0)791-58-0832
Fax : +81-(0)791-58-0830
e-mail : ohishi
Naohisa HIRAO
SPring-8 / JASRI
1-1-1 Kouto, Sayo-cho, Sayo-gun, Hyogo 679-5198
Phone : +81-(0)791-58-0832
Fax : +81-(0)791-58-0830
e-mail : hirao
Last modified
2013-06-03 16:17