Inquiry number
INS-0000000361
ABSTRACT
BL19LXU is equipped with a 27-m-long undulator as the brightest X-ray source. The optics hutch contains a Si (111) double-crystal monochromator with cryogenic cooling and a double mirror with the SPring-8 standard mechanism. EH3 is an open hutch, where users can bring in their own apparatus. We will welcome researches in any field, just requiring the highly brilliant X-ray beam.
AREA OF RESEARCH
This beamline is open for any research field requiring the highly brilliant X-ray beam
KEYWORDS
Scientific field
Science with brilliant X-rays
Equipment
Open hutch, Precision goniometers and stages, Standard X-ray detectors and electronics, Trigger signal synchronized with RF of the storage ring
SOURCE AND OPTICS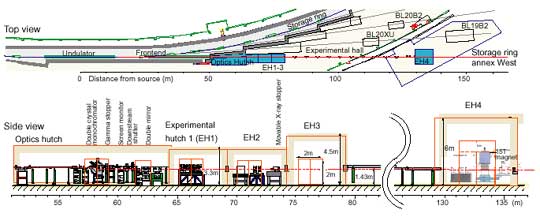 Schematic view of beamline
X-rays at sample

| | |
| --- | --- |
| Energy range | 7.1 ∼ 18 keV (1st), 22 ∼ 51 keV (3rd) |
| Photon flux | ∼ 2 × 1014 photons/s @14 keV |
| Beam size | ∼ 0.8 mm × 1.5 mm @EH2 (without focusing mirrors) |
EXPERIMENTAL STATIONS
EH3

The EH3, where public users can set up their instrumentation, has a comparably large size of 5 (W) × 3.4 (D) × 4.5 (H) m3, and is located at about 77 m distant from the undulator source. The room temperature in the hutch can precisely be controlled by an air conditioner. A manually operated chain hoist could help to install apparatus in the hutch.

EH1, 2, and 4

Although these experimental hutches (EH1, 2, and 4) are occupied by equipments of high precision goniometers, an intense laser system, and a superconducting magnet for the RIKEN project, small components are still able to be mounted in the hutches by public users. (As for the hutch size and the distance from source, see schematic view of beamline.)

Available equipments for public users are listed bellow:

Optical bench

APD, PIN photodiode, Scintillation counter, Ionization chamber
Stepping motor drivers and controllers
NIM Bin power supply, Counter/timer, MCA, Current amp., etc.
Timing circuit supplying a trigger signal synchronized with the frequency of the storage ring.
PUBLICATION SEARCH
* Sorry, Some parts of results are displayed using Japanese characters.
CONTACT INFORMATION
Please note that each e-mail address is followed by "@spring8.or.jp."

Kenji TAMASAKU
SPring-8 / RIKEN
1-1-1 Kouto, Sayo-cho, Sayo-gun, Hyogo 679-5148
Phone : +81-(0)791-58-0802 ext.3821
Fax : +81-(0)791-58-2807
e-mail : tamasaku

Last modified
2019-11-22 09:08