Inquiry number
INS-0000000314
ABSTRACT
The bending-magnet beamline is allocated to medical applications and various imaging techniques in the energy range of 5-113 keV. The main optics is a fixed-exit double crystal monochromator. The X-ray beam produced by the bending magnet passes out of the experimental hall surrounding the storage ring and enters the Medium-length Beamline Facility. The experiments are performed in the experimental hall and the Medium-length Beamline Facility for alternative operations.
AREA OF RESEARCH
The medical research mainly involves micro-radiography, micro-tomography and refraction-contrast imaging on biological specimens and small animals.
Imaging techniques involve the evaluation and development of various kinds of optical elements for novel imaging techniques.
KEYWORDS
Scientific field
Preclinical radiographic imaging, preserved tissue specimen imaging, materials science, Earth science, X-ray optics, ultra-small-angle scattering, X-ray fluorescence analysis of large materials
Equipment
High resolution X-ray detector, high precision diffractometer, micro-angiography, micro-tomography, topography, small-field micro-radiography, large-field scanned projection radiography, plain-wave wide-beam radiography, multi-crystal diffraction topography
SOURCE AND OPTICS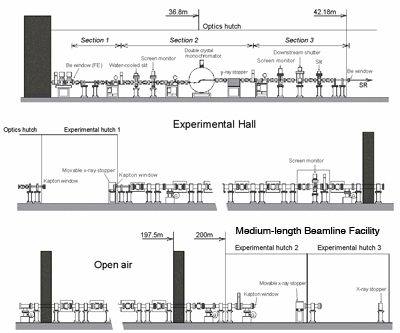 Schematic View of Beamline
X-rays at Sample

Critical energy
28.9 keV
Beam divergence
1.5 mrad (Horizontal)
0.06 mrad (Vertical)
Energy range
Si 311 : 8.4 ∼ 72.5 keV
Si 111 : 5.0 ∼ 37.5 keV
Si 511 : 13.5 ∼ 113.3 keV
Beam size 1
about 75 mm (H) × 5 mm (V) in the experimental hutch 1 located in the experimental hall (Si 311)
Beam size 2
about 300 mm (H) × 20 mm (V) in the hutches located in the Medium-length Beamline Facility (Si 311)

Fig.2. Overview of beamline

Fig.3. Beamline in the experimental hall
EXPERIMENTAL STATIONS
PUBLICATION SEARCH
* Sorry, Some parts of results are displayed using Japanese characters.
CONTACT INFORMATION
Please note that each e-mail address is followed by "@spring8.or.jp."

Kentaro UESUGI
SPring-8 / JASRI
1-1-1 Kouto, Sayo-cho, Sayo-gun, Hyogo 679-5198
Phone : +81-(0)791-58-0833
Fax : +81-(0)791-58-0830
e-mail : ueken
Masato HOSHINO
SPring-8 / JASRI
1-1-1 Kouto, Sayo-cho, Sayo-gun, Hyogo 679-5198
Phone : +81-(0)791-58-0833
Fax : +81-(0)791-58-0830
e-mail : hoshino
Last modified
2020-09-09 10:27