Inquiry number
INS-0000000386
Experimental stage
The experimental stage is the base of the optics equipments such as 4-blade slits, 10 kinds of selectable absorbers, shutter unit, and sample goniometer as well as CCD and IP detectors. All axes are remote controllable so that the operating software is able to carry out the optics tuning and detector switching automatically.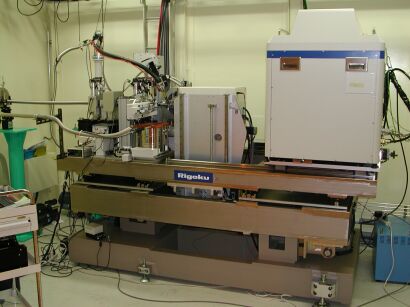 Experimental stage
Goniometer

A high precision sample goniometer with horizontal spindle axis has been adopted. The shortest distance for CCD detector is 90mm.

Sample goniometer

Sample changer SPACE (SPring-8 Precise Automatic Cryo-sample Exchanger)

The automatic sample changing system is the key component of the HTPX. The system consists of the sample changer robot, XY stage for sample tray, and LN2 supplying system. The system is customized to use the specially designed sample pins and sample tray developed at BL26.
Last modified
2019-11-22 09:13