問い合わせ番号
INS-0000001392
ABSTRACT
This beamline is dedicated to the study of the dynamics of materials using inelastic X-ray scattering (IXS) and nuclear resonant scattering (NRS) [Baron, et al, J. of Phys. Chem. Solids 61, (2000) 461]. IXS measures the dynamic structure factor, S (Q, ω), with ∼ meV energy resolution and > 1nm-1 momentum transfers. This is particularly interesting for disordered materials and small samples, where neutron scattering has severe limitations. In particular, IXS allows access to ∼ 1 nm-1 momentum transfers and large (< 0.5 eV) energy transfers with ∼ meV resolution - a region inaccessible for most neutron spectrometers and of great interest for liquids and glasses (disordered materials). Meanwhile the beam size, ∼ 100 µm diameter, makes small samples (< 0.01 mm3) readily accessible, a vast improvement over the ∼ 100 mm3 typically needed for neutron scattering. NRS allows access to element specific densities phonon of states on the meV level, and several other techniques for probing dynamics (NFS, NBS, TDI) at the neV level.
AREA OF RESEARCH
Dynamics of materials on meV energy scales: Phonons, Excitations in Liquids and Glasses
Methods of investigation include inelastic X-ray scattering (IXS) and nuclear resonant scattering (NRS).
Focal spot size of φ20 microns possible with KB setup
KEYWORDS
Scientific field
Inelastic X-ray scattering, Dynamics, Phonons, Dynamic structure factor, Collective modes, Liquids, Glasses, Disordered materials, Superconductors, Nuclear resonant scattering, Phonon density of states, Nuclear inelastic scattering
Equipment
Analyzes, meV, High Resolution, Backscattering, Optics, CZT detectors, Avalanche Photodiodes, Time Domain Measurements
SOURCE AND OPTICS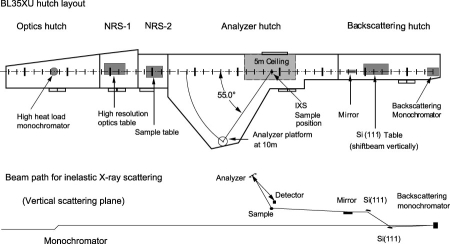 X-rays at Sample

| | |
| --- | --- |
| Energy range | 14.4 ~ 25.7 keV (fundamental) |
| Energy Resolution | 10-4-10-8 |
EXPERIMENTAL STATIONS
PUBLICATION SEARCH
* Sorry, some parts of results are displayed using Japanese characters.
BL35XU PUBLICATION SEARCH
BL35XU Local Website
Fore more information, please visit the BL35XU Local Website.
CONTACT INFORMATION
Please note that each e-mail address is followed by "@spring8.or.jp."

Hiroshi UCHIYAMA
SPring-8 / JASRI
1-1-1 Kouto, Sayo-cho, Sayo-gun, Hyogo 679-5198
Phone : +81-(0)791-58-2750
Fax : +81-(0)791-58-0830
e-mail : uchiyama
Satoshi TSUTSUI
SPring-8 / JASRI
1-1-1 Kouto, Sayo-cho, Sayo-gun, Hyogo 679-5198
Phone : +81-(0)791-58-2750
Fax : +81-(0)791-58-0830
e-mail : satoshi