Inquiry number
INS-0000001392
ABSTRACT
This beamline is dedicated to the study of the dynamics of materials using inelastic X-ray scattering (IXS) [Baron, et al, J. of Phys. Chem. Solids 61, (2000) 461]. IXS measures the dynamic structure factor, S (Q, ω), with ∼ meV energy resolution and > 1nm-1 momentum transfers. This is particularly interesting for disordered materials and small samples, where neutron scattering has severe limitations. In particular, IXS allows access to ∼ 1 nm-1 momentum transfers and large (< 0.5 eV) energy transfers with ∼ meV resolution - a region inaccessible for most neutron spectrometers and of great interest for liquids and glasses (disordered materials). Meanwhile the beam size, ∼ 100 µm diameter, makes small samples (< 0.01 mm3) readily accessible, a vast improvement over the ∼ 100 mm3 typically needed for neutron scattering.
AREA OF RESEARCH
Dynamics of materials on meV energy scales: Phonons, Excitations in Liquids and Glasses
High-resolution inelastic X-ray scattering (IXS)
Focal spot size of φ20 microns possible with KB setup
KEYWORDS
Scientific field
Inelastic X-ray scattering, Dynamics, Dynamic structure factor, Phonon density of states, Phonons, Collective modes, Elastic constants, Non-periodic materials (Liquids, Glasses, etc.), Crystals (Superconductors, Dielectric materials, etc.)
Equipment
Analyzes, meV, High Resolution, Backscattering, Optics, CZT detectors, Avalanche Photodiodes
SOURCE AND OPTICS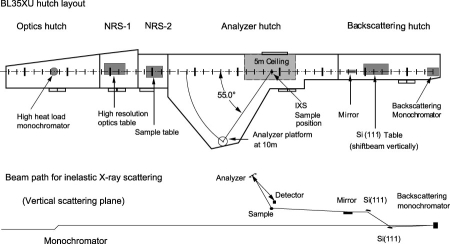 X-rays at Sample

| | |
| --- | --- |
| Energy range | 14.4 ~ 25.7 keV (fundamental) |
| Energy Resolution | 10-4-10-8 |
EXPERIMENTAL STATIONS
PUBLICATION SEARCH
* Sorry, some parts of results are displayed using Japanese characters.
BL35XU PUBLICATION SEARCH
BL35XU Local Website
Fore more information, please visit the BL35XU Local Website.
CONTACT INFORMATION
Please note that each e-mail address is followed by "@spring8.or.jp."

Hiroshi UCHIYAMA
SPring-8 / JASRI
1-1-1 Kouto, Sayo-cho, Sayo-gun, Hyogo 679-5198
Phone : +81-(0)791-58-2750
Fax : +81-(0)791-58-0830
e-mail : uchiyama
Satoshi TSUTSUI
SPring-8 / JASRI
1-1-1 Kouto, Sayo-cho, Sayo-gun, Hyogo 679-5198
Phone : +81-(0)791-58-2750
Fax : +81-(0)791-58-0830
e-mail : satoshi
Last modified
2018-04-27 10:17