Discovery that Co Maintains Magnetism at Ultrahigh Pressure (Press Release)
Release Date

11 May, 2011
BL39XU (Magnetic Materials)
- Different results for the ferromagnetic elements Co and Fe have led to an important finding in materials science
Hiroshima University
Japan Synchrotron Radiation Research Institute
Scientists of Hiroshima University (President, Toshimasa Asahara), jointly with those of the Japan Synchrotron Radiation Research Institute (JASRI; President, Tetsuhisa Shirakawa), have clarified, for the first time in the world, that cobalt (Co) maintains paramagnetism, i.e., it is weakly attracted to magnets, even at an ultrahigh pressure of 170 GPa, using high-brilliance X-rays at SPring-8.
At atmospheric pressure, Co is a ferromagnetic material, a metal that is strongly attracted to magnets, similarly to iron (Fe). However, it was theoretically predicted that the crystal structure of Co may change at a high pressure to become nonmagnetic, i.e., it is not attracted to magnets. For Fe, it has already been found that its crystal structure changes at a pressure of 14 GPa and becomes nonmagnetic. For Co, however, the change in its crystal structure occurs at a pressure much higher than that for Fe. Therefore, it was difficult to measure the magnetism of Co and directly observe the change of its crystal structure. Such observation became possible thanks to SPring-8 high-precision measurement techniques, ultrahigh-brilliance X-rays formed in a system equipped with a low-emittance light source*1 and a mirror fabricated with ultrahigh precision, and a newly developed ultrahigh-pressure generator.
The scientists of this research group discovered a crystal structure of Co that is observed uniquely at a high pressure of 170 GPa by X-ray magnetic circular dichroism (XMCD), absorption spectroscopy using circularly polarized light, at SPring-8. They analyzed the magnetic state of Co and successfully clarified that Co at a high pressure is paramagnetic, not nonmagnetic as previously predicted. The result of this research reversed the theoretical prediction in previous studies and led to the clarification of the difference in magnetism between Co and Fe. This difference is an important finding for materials science and raises a new question about the relationship between crystal structures and magnetism.
The achievements of this research were obtained by a joint research group led by Naoki Ishimatsu (Assistant Professor) and Hiroshi Maruyama (Professor) of Hiroshima University and Naomi Kawamura (Associate Senior Scientist) and Masaichiro Mizumaki (Associate Senior Scientist) of JASRI. The results were published online as a rapid communication article in the American scientific journal Physical Review B on 9 May 2011.
Publication:
"Paramagnetism with anomalously large magnetic susceptibility in β(fcc)-cobalt probed by x-ray magnetic circular dichroism up to 170 GPa"
Naoki Ishimatsu, Naomi Kawamura, Hiroshi Maruyama, Masaichiro Mizumaki, Takahiro Matsuoka, Hirokatsu Yumoto, Haruhiko Ohashi, and Motohiro Suzuki
Physical Review B Rapid Communications 83, 180409(R) (2011), published online 9 May 2011
---
<<Glossary>>
*1 Low-emittance light source
X-rays emitted from a synchrotron radiation source called the undulator at SPring-8 not only have a high intensity but also hardly diverge over long distances because of the small light source. This is why the light from SPring-8 beamlines is called high-brilliance light (i.e., light with a high energy density). As light-focusing devices, such as mirrors and lenses, are placed further from the light source and the light source is smaller, light is focused to a smaller diameter. Therefore, the low-emittance light source at SPring-8 is suitable for producing ultrahigh-brilliance light.
---
<<Figures>>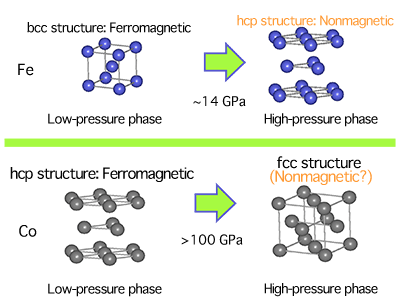 Fig. 1 High-pressure-induced structural phase transition and magnetism in Fe and Co
---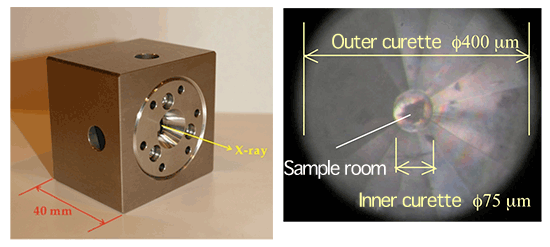 Fig. 2 Diamond anvil cell for generating high pressures (left)
and surroundings of sample in the cell at 170 GPa (right)
The curette size indicates the size of the diamond tip.
---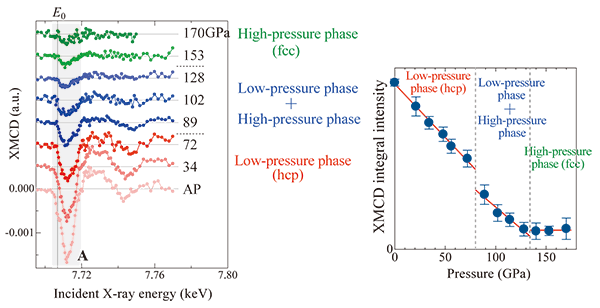 Fig. 3 XMCD spectra (left) and XMCD integral intensity with respect to pressure (right)
---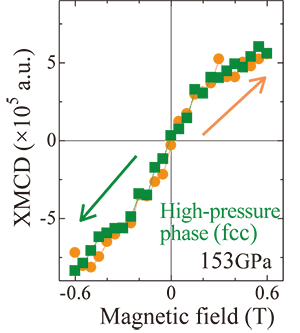 Fig. 4 XMCD with respect to magnetic field in high-pressure phase
---
For more information, please contact:
Dr. Naoki Ishimatsu (Hiroshima University)
  E-mail:

Dr. Naomi Kawamura (JASRI)
  E-mail:

Previous Article
Current article

Discovery that Co Maintains Magnetism at Ultrahigh Pressure (Press Release)