Development of Gas Sensor with New "Twist" (Press Release)
Release Date

05 Sep, 2011
BL02B2 (Powder Diffraction)
- Selectively detecting only CO2 among atmospheric gases
Kyoto University
Japan Science and Technology Agency (JST)
Japan Synchrotron Radiation Research Institute (JASRI)
RIKEN
Osaka Prefecture University
Kanazawa University
A research group of Kyoto University (President, Hiroshi Matsumoto) has succeeded in developing a gas sensor that can determine the type and concentration of a gas from the fluorescence response, in cooperation with scientists of JASRI (President, Tetsuhisa Shirakawa), RIKEN (President, Ryoji Noyori), Osaka Prefecture University (President, Taketoshi Okuno), and Kanazawa University (President, Shin-ichi Nakamura). This was realized by inducing a structural change in the flexible pores of porous materials,*1 into which fluorescent molecules were introduced, to form fluorescent molecules with a twisted or planar structure.
The research group led by Susumu Kitagawa (Professor and Deputy Director of the Institute for Integrated Cell-Material Science (iCeMS), Kyoto University) and Takashi Uemura (Associate Professor of the Graduate School of Engineering, Kyoto University) introduced guest fluorescent molecules into the pores of a host porous coordination polymer (PCP) with a gate opening function.*2 Structural changes in the pores that occurred when gas molecules were adsorbed onto them induced structural changes in the guest molecules, which changed to a twisted or planar structure. On the basis of this finding, the scientists developed a novel material used for gas sensors that can determine the type and concentration of a gas from the fluorescence response. Using the developed sensor, they succeeded in selectively distinguishing carbon dioxide (CO2) from other atmospheric gases and determining its concentration from the fluorescence response. They also successfully discriminated between CO2 and acetylene, which are difficult to distinguish by conventional techniques because of their similar boiling points and molecular sizes. The achievements of this research can be used to quickly detect harmful and explosive gases by visual observation and are expected to lead to the development of new materials used for gas sensors that can contribute to the conservation of the global environment and the enhancement of industrial production.
This research was supported by the Kitagawa Integrated Pores Project (Project Leader, Susumu Kitagawa), an Exploratory Research for Advanced Technology (ERATO) project of JST. The research results were published online in the British scientific journal Nature Materials on 4 September 2011.
Publication:
"Gas detection by structural variations of fluorescent guest molecules in a flexible porous coordination polymer"
Nobuhiro Yanai, Koji Kitayama, Yuh Hijikata, Hiroshi Sato, Ryotaro Matsuda, Yoshiki Kubota, Masaki Takata, Motohiro Mizuno, Takashi Uemura and Susumu Kitagawa
Nature Materials 10, 787–793 (2011), published online 4 September 2011
---
<<Glossary>>
*1 Porous materials
Porous materials have many fine pores and are widely used as adsorbents and catalysts, specifically, for the selective separation and the reactions of gases and water.
---
*2 Gate opening function
Gate opening is a unique property of PCPs. The closed porous structure of PCPs changes to an open porous structure upon the adsorption of molecules. A certain level of molecular pressure (gate pressure) is required to open the closed structure, which depends on the type of molecule. Only target gas molecules are selectively adsorbed onto the pores by controlling the gas pressure; therefore, PCPs with the gate opening function are attracting attention for use as adsorbents and separating agents.
---
*3 Oligomers
Oligomers generally refer to polymers with a low molecular weight of 10,000 or less; however, this range is not rigorously defined. Oligomers have intermediate properties between low- and high-molecular-weight polymers, and various liquid and solid oligomers have been synthesized. Oligomers are used as synthetic raw materials as well as in various applications such as paints, glues, lubricants, plasticizers, and cosmetics. (Cited from Encyclopedia Britannica)
---
<<Figures>>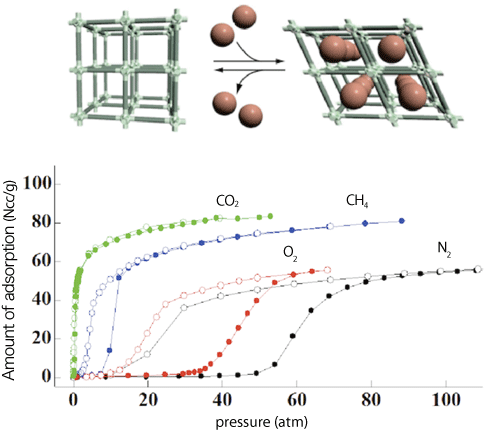 Fig. 1 Example of selective gas adsorption onto flexible PCP pores
The research group of Kyoto University focused on PCPs, which consist of metal ions and organic substances connecting them and have nanosize flexible pores that allow gas molecules to be adsorbed. The porous structure of PCPs changes more flexibly than that of other porous materials. PCPs with such a structure respond to a slight difference in physical properties among gas molecules and allow gas molecules to be adsorbed while accompanying changes in the size and shape of their pores (Fig. 1). Many PCPs have this gate opening function and exhibit high gas adsorption selectivity, giving them high-efficiency separation and condensation functions that have attracted attention in various fields. In this study, the research group synthesized a composite from a host PCP with nanosize flexible pores, into which guest reporter molecules that can read out a structural change in the host were introduced (Fig. 2). This composite can also allow further gas molecules to be adsorbed as secondary guest molecules. When the structure of the PCP pores changes during the adsorption, the interaction between the PCP pores and reporter molecules changes, causing the structure of the reporter molecules to also change at the same time. Only gases that can cause structural changes in pores are selectively adsorbed onto such composites. Because the concentration at which a structural change occurs differs among gases, it is possible to determine the type and concentration of a gas using the output from the reporter molecules.
---

Fig. 2 Gas detection based on coupling between flexible PCP pores and reporter molecules
The research group used distyrylbenzene (DSB), a fluorescent oligomer,*3 for reporter molecules. DSB can be introduced into PCP pores by sublimation, which causes DSB to form a twisted structure emitting weak green fluorescence because of the interaction with the PCP pores (Fig. 3). When various gas molecules (N2, O2, Ar, CO2) were introduced, only CO2 molecules were adsorbed onto the composite by the gate opening function. To clarify the mechanism underlying this adsorption, the scientists of the research group of Kyoto University carried out powder X-ray diffraction measurement using high-brilliance and high-resolution synchrotron radiation X-rays at the BL02B2 beamline for powder diffraction of SPring-8, in cooperation with a research team led by Yoshiki Kubota, an associate professor of Osaka Prefecture University, and Masaki Takata, Group Director of Quantum Order Research Group, RIKEN SPring-8 Center. They found that when CO2 was adsorbed onto the PCP-DSB composite, the porous structure expanded and changed from a rhombic to a square structure (Fig. 3). Moreover, the research group of Kyoto University cooperated with the research group led by Motohiro Mizuno, a professor of Kanazawa University, in examining the relationship between the structure and mobility of DSB in the pores. It was clarified that the steric structure of DSB was changed from a twisted to a planar structure emitting strong blue fluorescence owing to the structural change in the PCP pores (Figs. 3 and 4). In other words, the degree of twist of the DSB structure depended on the concentration of adsorbed CO2, enabling the DSB-PCP composite to serve as a fluorescent sensor that can accurately respond to CO2 (Fig. 4). In addition, the composite shows different gate opening functions in the presence of CO2 and acetylene (an explosive gas), which have similar physicochemical properties, enabling rigorous discrimination between these gases because of the differences in the degree of twist of the DSB structure and the fluorescence.
---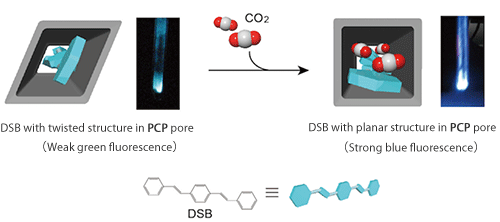 Fig. 3 Changes in structure and fluorescence for composite of host
PCP and guest reporter molecules upon adsorption of CO2
---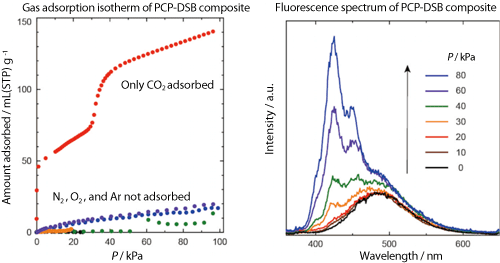 Fig. 4 Gas adsorption of PCP-DSB composite (left) and change in
fluorescence (right) due to CO2 adsorption
A change in fluorescence starts to occur a few seconds after the adsorption of a gas and is completed in a few minutes because the developed gas sensor uses the physical adsorption of a gas onto a porous material. The sensor can be reused simply by removing the gas. The composite used in this study is not only important in terms of environmental protection and industrial applications because it can easily detect CO2 in air, but it also has academic significance because it uses a completely new gas detection mechanism based on synchronous changes in the structure and function of a host (PCP) and a guest (DSB).
---
For more information, please contact:
 Takashi Uemura (Kyoto University)
  E-mail:

 Prof. Susumu Kitagawa (Kyoto University)
  E-mail:

Current article

Development of Gas Sensor with New "Twist" (Press Release)