Structure of the trypanosome alternative oxidase in complex with a potent inhibitor, a promising drug candidate for the treatment of African sleeping sickness (Press Release)
Release Date

05 Mar, 2013
BL41XU (Structural Biology I)

BL44XU (Macromolecular Assemblies)
The University of Tokyo
Kyoto Institute of Technology
A joint research group of Profs. K. Kita (the University of Tokyo) and S. Harada (Kyoto Institute of Technology) succeeded in X-ray structure analysis of the trypanosome alternative oxidase (TAO) using X-rays produced by SPring-8 and Photon Factory. TAO is a promising drug target for the treatment of African sleeping sickness caused by Trypanosoma brucei. Structural information derived from the current structure of TAO in complex with a potent inhibitor that can cure infected goats and mice will accelerate the design of better therapeutic agents for African sleeping sickness, and it represents that results of basic science carried out in Japan will contribute to the improvement of health and economy of developing counties.
Publication:
"Structure of the trypanosome cyanide-insensitive alternative oxidase"
Tomoo Shiba, Yasutoshi Kido, Kimitoshi Sakamoto, Daniel Ken Inaoka, Chiaki Tsuge, Ryoko Tatsumi, Gen Takahashi, Emmanuel Oluwadare Balogun, Takeshi Nara, Takashi Aoki, Teruki Honma, Akiko Tanaka, Masayuki Inoue, Shigeru Matsuoka, Hiroyuki Saimoto, Anthony L. Moore, Shigeharu Harada, Kiyoshi Kita
Proceedings of the National Academy of Sciences of the United States of America (PNAS) vol. 110 no. 12 4580-4585, 2013
<<Figures>>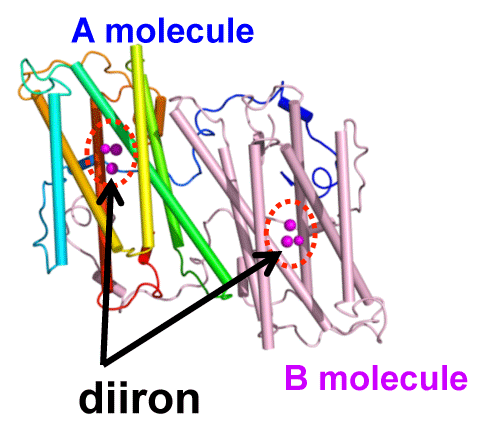 Fig. 1 Dimeric structure of TAO
---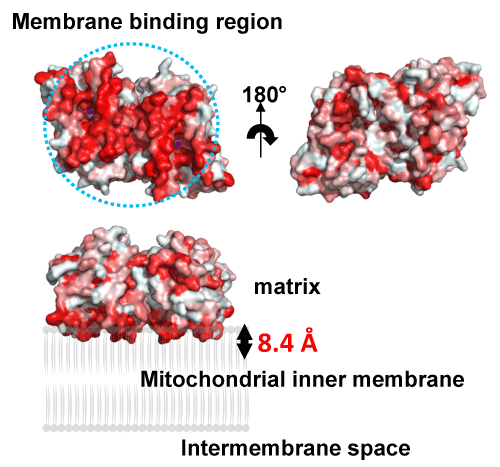 Fig. 2 Membrane-binding region of TAO (upper left) and
proposed binding model of the TAO dimer to membranes.
The red color highlights highly hydrophobic areas.
---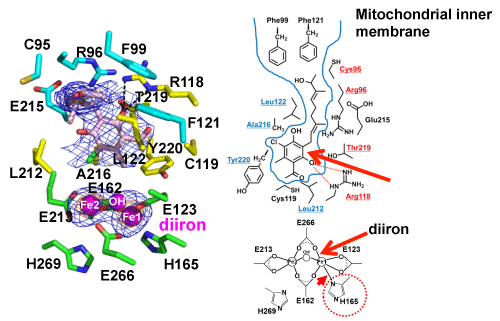 Fig. 3 Inhibitor binding region of TAO.
An inhibitor binds to a hydrophobic pocket near diiron.
---
For more information, please contact:
Prof. Kiyoshi Kita (The University of Tokyo)
E-mail :

Prof. Shigeharu Harada (Kyoto Institute of Technology)
E-mail :

Previous Article
Current article

Structure of the trypanosome alternative oxidase in complex with a potent inhibitor, a promising drug candidate for the treatment of African sleeping sickness (Press Release)