Successful synthesis of an aluminum-based interstitial hydride (Press Release)
Release Date

19 Sep, 2013
BL14B1 (JAEA Materials Science)
Japan Atomic Energy Agency
Tohoku University
Key research findings
• A new hydride Al2CuH was synthesized by hydrogenation under high-pressure and high-temperature conditions.
• The crystal and electronic structures of Al2CuH illustrated a formation of an interstitial hydride which is a new class of aluminum-based hydride.
A joint research group comprising Japan Atomic Energy Agency and Tohoku University succeeded in synthesis of a new aluminum-based interstitial hydride Al2CuH by hydrogenation under high-pressure and high-temperature conditions. This finding will help in expanding the variety of aluminum-based alloy hydrides, which, in turn, will help in developing practical hydrogen-storage materials.
Lightweight hydrides with high hydrogen content are desirable for mobile hydrogen-storage applications. Aluminum-based hydrides are promising because of their advantages: low weight, nontoxicity, and the absence of volatile gas products except for hydrogen. Complex aluminum hydrides, whose crystal structures are built of [AlH4]- tetrahedral or [AlH6]3- octahedral units, have been studied widely. However, no complex aluminum hydrides suited for practical applications have been developed yet. If aluminum-based hydrides without such structural units, i.e., interstitial aluminum-based hydrides are synthesized, the results would lead us to expand the variety of aluminum-based hydrides. Such an interstitial aluminum-based hydride was not realized so far.
The research group demonstrated that Al2CuH was synthesized by the hydrogenation reaction of Al2Cu alloy under high-pressure and high-temperature conditions. The reaction conditions were explored with the help of in-situ synchrotron radiation X-ray diffraction measurement at BL14B1, SPring-8. The crystal and electronic structures of the hydride were investigated on the basis of powder X-ray diffraction measurement and first-principles calculations, respectively. Both the crystal and the electronic structures illustrated the formation of the interstitial hydride of an aluminum-based alloy. This is the first report of the formation of interstitial aluminum-based hydrides. The present result helps developing other interstitial aluminum-based hydrides for hydrogen storage.
Part of this work was supported by New Energy and Industrial Technology Development Organization (NEDO) under "Advanced Fundamental Research Project on Hydrogen Storage Materials".
Publication:
"Synthesis and formation process of Al2CuHx: a new class of interstitial aluminum-based alloy hydride"
H. Saitoh, S. Takagi, N. Endo, A. Machida, K. Aoki, S. Orimo, and Y. Katayama
APL Materials, 1, 032113 (2013).
<<Figures>>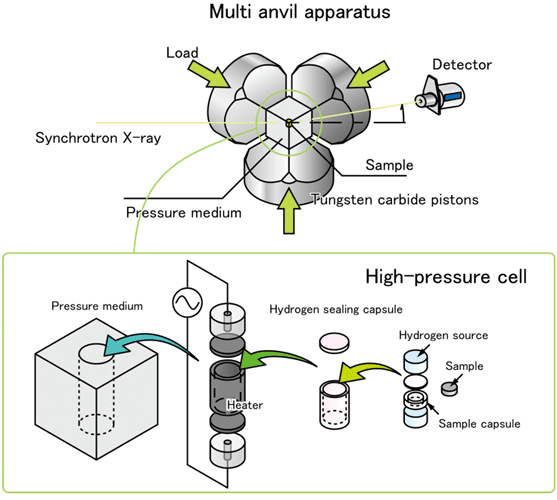 Fig. 1.
Schematic of the high-pressure apparatus used for the present study. The hydrogenation reaction conditions were explored using the high- pressure apparatus installed on the beamline BL14B1 at SPring-8.
---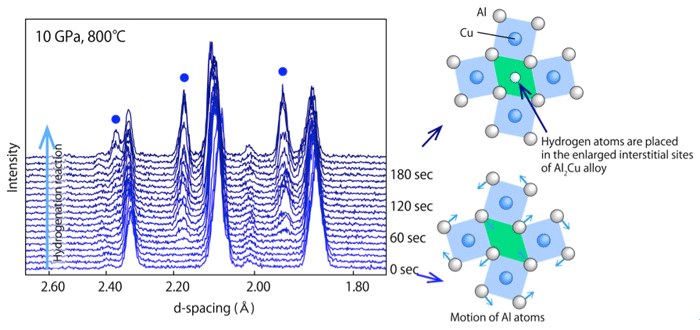 Fig. 2.
Series of X-ray diffraction profiles taken during the hydrogenation reaction.
---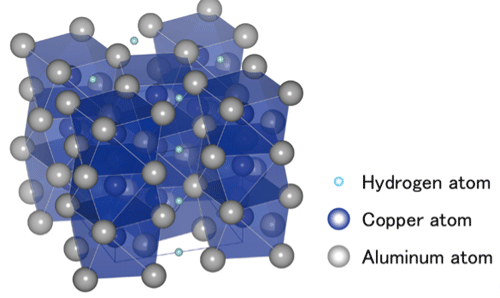 Fig. 3.
Schematic of the crystal structure of the Al2CuH. Interstitial spaces were enlarged by the hydrogenation reaction to accommodate hydrogen atoms which align linearly in Al2CuH.
---
For more information, please contact:
Dr. Hiroyuki Saitoh (JAEA)
Dr. Yoshinori Katayama (JAEA)
Prof. Shin-ichi Orimo (Institute for Materials Research, Tohoku University)
Previous Article
Current article

Successful synthesis of an aluminum-based interstitial hydride (Press Release)