Inquiry number
INS-0000000309
ABSTRACT
 This beamline is designed for the various kinds of experiments on diffraction and XAFS-type spectroscopy in the energy range of 5 ∼ 90 keV for monochromatized beams and 5∼150 keV for white beams. The main optics refers to the standard SPring-8 bending magnet system with two mirrors and a fixed-exit double crystal monochromator. These optical elements can be removed completely for the experiment with white beams. This beamline has two experimental hutches: one is dedicated to experiments using white x-rays such as high-pressure experiments and time-resolved energy-dispersive XAFS (DXAFS) measurements, while the other is dedicated to XAFS measurements using monochromatic x-rays.
AREA OF RESEARCH
Materials science at high pressure
XAFS
Time-resolved energy-dispersive XAFS (DXAFS)
KEYWORDS
Scientific field
X-ray diffraction, XAFS, High pressure, High temperature, Catalyst, Metals
Equipment
High-pressure and high-temperature apparatus , Energy-dispersive XAFS measuring station, XAFS measuring station.
SOURCE AND OPTICS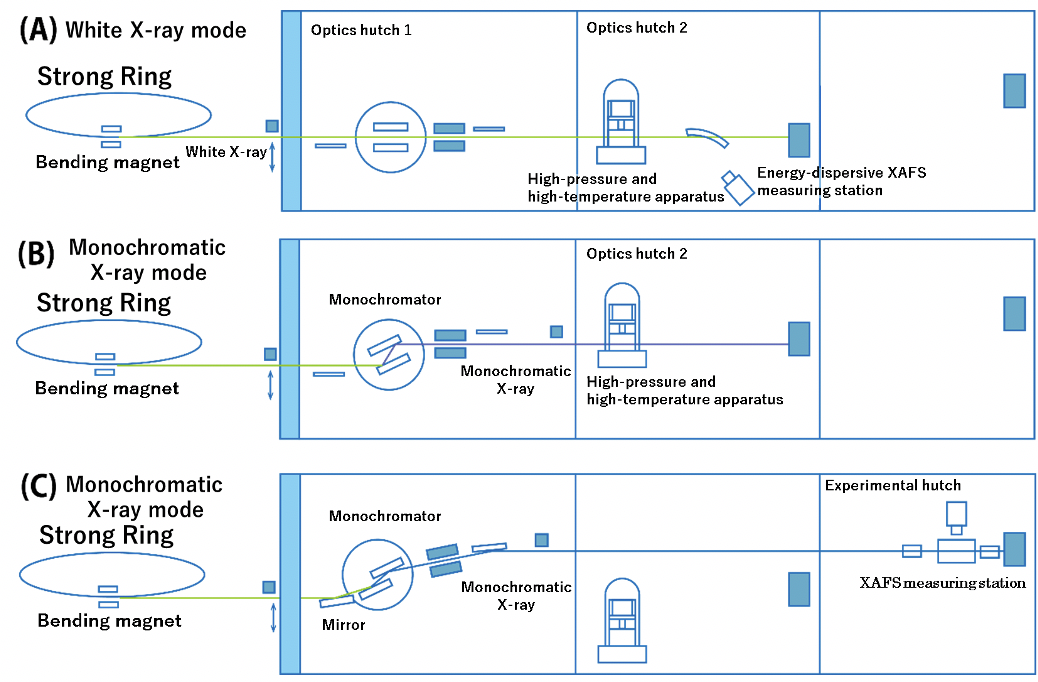 X-rays at sample

Monochromatic

Energy range
5.0 ∼ 90 keV
Energy resolution
Si (111) : ΔE/E = 10-4
Si (311) : ΔE/E × 3 ∼ 10-5
Si (511) : ΔE/E × 7 ∼ 10-6
Photon flux
1010 ph/s
Beam size
3(H) × 1(V)mm2 (with bender)
3(H) × 0.2(V)mm2 (with bender&mirror)

White

Energy range
5 ∼ 150 keV
Photon flux
∼ 1013 ph/s
Beam size
0.05(H) × 0.05(V) mm2~
3(H) × 3(V) mm2

High-pressure and high-temperature apparatus
EXPERIMENTAL STATIONS
PUBLICATION SEARCH
* Sorry, Some parts of results are displayed using Japanese characters.
CONTACT INFORMATION
Please note that each e-mail address is followed by "@qst.go.jp."
SAITOH Hiroyuki
Synchrotron Radiation Research Center, Kansai Photon Science Institute, Quantum Beam Science Research Directorate, National Institutes for Quantum Science and Technology
1-1-1 Kouto, Sayo-cho, Sayo-gun, Hyogo 679-5148
Phone : +81-(0)791-58-1014
FAX : +81-(0)791-58-0311
e-mail : saito.hiroyuki
SHIRO Ayumi
Synchrotron Radiation Research Center, Kansai Photon Science Institute, Quantum Beam Science Research Directorate, National Institutes for Quantum Science and Technology
1-1-1 Kouto, Sayo-cho, Sayo-gun, Hyogo 679-5148
Phone : +81-(0)791-58-2708
FAX : +81-(0)791-58-0311
e-mail : shiro.ayumi
Website
Last modified
2022-05-12 11:07