Structure determination of a IPR-violating metallofullerene, Sc2@C66
Inquiry number
SOL-0000000955
Beamline
BL02B2 (Powder Diffraction)
Scientific keywords
| | |
| --- | --- |
| A. Sample category | organic material |
| B. Sample category (detail) | semiconductor, solid-state crystal, crystal |
| C. Technique | X-ray diffraction |
| D. Technique (detail) | powder diffraction |
| E. Particular condition | room temperature |
| F. Photon energy | X-ray (4-40 keV) |
| G. Target information | molecular structure, structure analysis, crystal structure, charge density |
Industrial keywords
| | |
| --- | --- |
| level 1---Application area | Semiconductor |
| level 2---Target | |
| level 3---Target (detail) | |
| level 4---Obtainable information | crystal structure |
| level 5---Technique | diffraction |
Classification
A80.12 semiconductor, M10.20 powder diffraction
Body text
Powder diffraction is a powerful technique to study crystal structures. Using this technique, one can measure structural parameters such as lattice parameters, atomic positions, etc of crystalline materials. By using synchrotron radiation one can also obtain charge density level structures closely related with physical properties as well as structural parameters. The figure shows charge density distributions obtained by analyzing diffraction data of a metallofullerene, Sc2@C66. These data reveal the fact that the IPR-violating metallofullerene is to be found.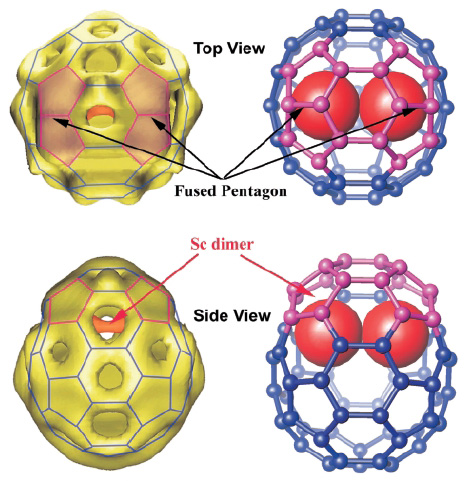 Fig. Charge densities (left) and the structural model (right) of Sc2@C66.
Source of the figure
Original paper/Journal article
Journal title
SPring-8 利用者情報, 6 (2001) 116.
Figure No.
4
Technique
Powder diffraction using synchrotron radiations a powerful technique to study crystal structures. The technique is applicable to a very small amount of powder samples of several milligrams and provides knowledge about structures of novel materials.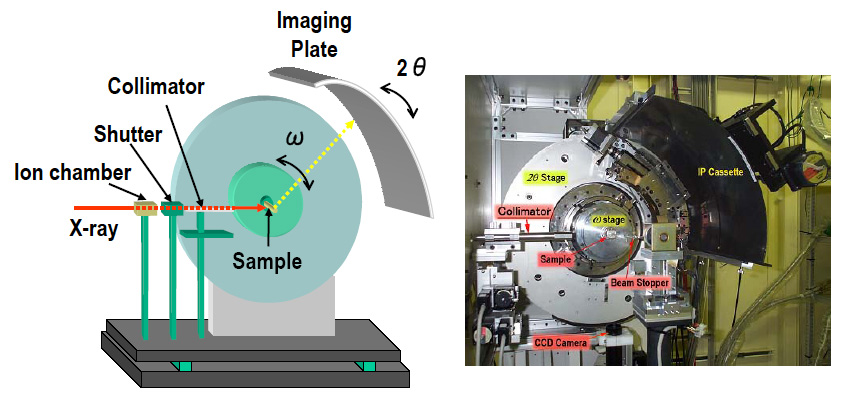 Fig. A large Debye-Scherrer camera.
Source of the figure
Presentation material for Beamline Report
Required time for experimental setup
1 hour(s)
Instruments
References
Document name
C. R. Wang et al., Nature, 408 (2000) 426.
Related experimental techniques
Single crystal structure analysis

Questionnaire
The measurement was possible only in SPring-8. Impossible or very difficult in other facilities.
This solution is an application of a main instrument of the beamline.

Ease of measurement
With a great skill
Ease of analysis
With a great skill
How many shifts were needed for taking whole data in the figure?
Four-nine shifts
Last modified
2019-11-22 09:17