Inquiry number
SOL-0000001304
Beamline
BL08W (High Energy Inelastic Scattering)
Scientific keywords
| | |
| --- | --- |
| A. Sample category | inorganic material, organic material |
| B. Sample category (detail) | environmental material |
| C. Technique | fluorescent X-rays |
| D. Technique (detail) | trace-element |
| E. Particular condition | room temperature |
| F. Photon energy | X-ray (> 40 keV) |
| G. Target information | trace element |
Industrial keywords
| | |
| --- | --- |
| level 1---Application area | environment |
| level 2---Target | Environmental material |
| level 3---Target (detail) | ash |
| level 4---Obtainable information | element distribution |
| level 5---Technique | |
Classification
A60.20 environment, A80.30 inorganic material, A80.32 organic material, A80.40 environmental materials
Body text
蛍光X線分析は物質に含まれる元素組成を調べることのできる簡便な手法です。この手法は、非破壊であり、また、100keVを超える高エネルギーX線を使用することで、希土類などの重元素の組成分析に敏感です。
図に示すのは、標準試料の花崗岩について測定したエネルギープロファイルです。この結果のとおり、希土類の蛍光X線ピークが分離しており、また、高い検出能力を持つことがわかります。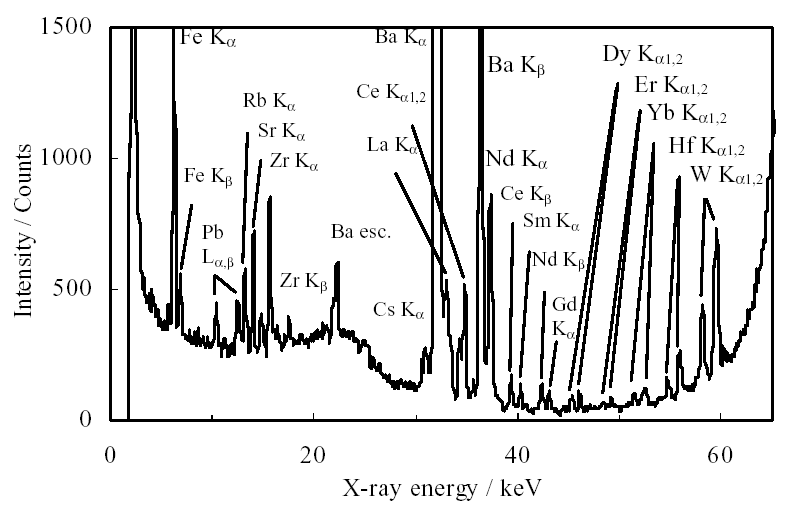 花崗岩標準試料 JG-1 の 蛍光X線プロファイル
[ I. Nakai, Y. Terada, M. Itou and Y. Sakurai, Journal of Synchrotron Radiation 8, 1078-1081 (2001), Fig. 2,
©2001 International Union of Crystallography ]
Source of the figure
Original paper/Journal article
Journal title
Journal of Synchrotron Radiation, 8 (2001) 1078-1081
Figure No.
2
Technique
試料に高エネルギーX線を入射し、散乱角90度に設置したGe-半導体検出器でエネルギー分光します。測定時間は数分です。
Source of the figure
No figure
Required time for experimental setup
4 hour(s)
Instruments
References
Document name
I. Nakai, et. al. , Journal of Synchrotron Radiation, 8 (2001) 1078-1081
Related experimental techniques
Questionnaire
With user's own instruments.

Ease of measurement
Easy
Ease of analysis
Easy
How many shifts were needed for taking whole data in the figure?
Less than one shift