Measurement of long-lived isotopes using stroboscopic detection of synchrotron radiation
Body text
Stroboscopic detected Synchrotron Mössbauer Spectroscopy is a unique technique to study the hyperfine interactions of the long-lived isotopes. The technique is applicable to the materials containing Mössbauer nuclei and provides knowledge about the spin orientation, spin strength or the chemical states.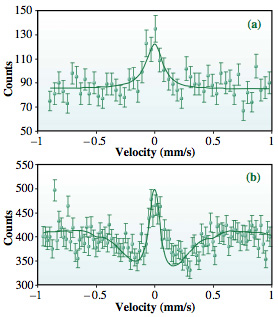 Fig. Stroboscopic spectra of two Ta metal - a bunch-mode of
(a) 203 single bunches and (b) 1/12 filling + 10 single bunches.
Scientific keywords
| | |
| --- | --- |
| A. Sample category | inorganic material, research on method, instrumentation |
| B. Sample category (detail) | metal, alloy |
| C. Technique | nuclear excitation, Mössbauer effect |
| D. Technique (detail) | |
| E. Particular condition | time-resolved (ns), room temperature |
| F. Photon energy | X-ray (4-40 keV) |
| G. Target information | chemical state, chemical bonding, local structure |
Industrial keywords
| | |
| --- | --- |
| level 1---Application area | others |
| level 2---Target | |
| level 3---Target (detail) | |
| level 4---Obtainable information | electronic state, chemical state |
| level 5---Technique | scattering |
Inquiry number
SOL-0000001188
Last modified
2022-05-06 15:32