高圧・高温条件におけるシリカのパイライト構造への相転移
Inquiry number
SOL-0000001318
Beamline
BL10XU (High Pressure Research)
Scientific keywords
| | |
| --- | --- |
| A. Sample category | inorganic material |
| B. Sample category (detail) | insulator, ceramics, crystal, mineral,rock |
| C. Technique | X-ray diffraction |
| D. Technique (detail) | powder diffraction |
| E. Particular condition | microbeam (> 10 µm), high pressure (DAC), high-T (> 500 C) |
| F. Photon energy | X-ray (4-40 keV) |
| G. Target information | crystal structure, phase transition |
Industrial keywords
| | |
| --- | --- |
| level 1---Application area | Semiconductor, Chemical product, industrial material |
| level 2---Target | silicon semiconductor, catalysis, glass |
| level 3---Target (detail) | gate insulator, interlayer insulator, capacitance insulator |
| level 4---Obtainable information | density, crystal structure, elastic modulus |
| level 5---Technique | diffraction |
Classification
A80.30 inorganic material, M10.20 powder diffraction
Body text
ダイヤモンドアンヴィルセル(DAC)とレーザー加熱法を利用したX線回折法はその場観察で高圧・高温下での物質状態を調べることのできる強力な手法です。この手法を用いることで、地殻・マントル鉱物及び核を構成する物質の地球内部環境における相状態・結晶構造や密度、相転移等を観測することができます。
図に示すのは、約270GPa・1800Kの環境においたシリカ(SiO2)について測定した結果、新しく発見されたパイライト型シリカの結晶構造とその相図 です。この結果から、Si原子がパイライト型構造をとることによって6+2配位に変化していること、またパイライト型シリカは地球マントル内部には存在せず、むしろ天王星や海王星の核の構成要素である可能性がわかりました(Y. Kuwayama et al., Science, 309(2005)923)。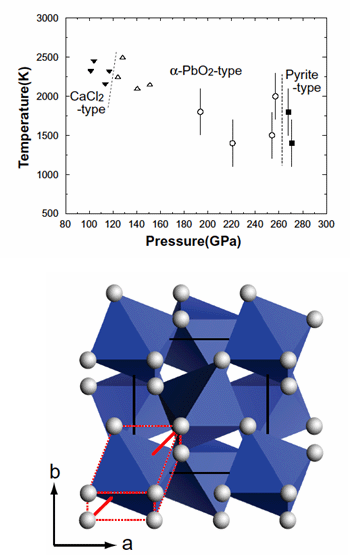 図 パイライト型シリカの結晶構造と相図
[ Y. Kuwayama, K. Hirose, N. Sata and Y. Ohishi, Science 309, 923-925 (2005), Fig. 3, 4,
©2005 American Association for the Advancement of Science ]
Source of the figure
Original paper/Journal article
Journal title
Science, 309(2005)923
Figure No.
3,4
Technique
DAC(ダイヤモンドアンヴィルセル)+レーザー加熱システムは、試料サイズ数十ミクロンの領域で高圧発生させ、集光されたレーザー光(波長1ミクロン程度)を照射することによって高圧・高温条件を実現する装置です。さらにこの高圧高温発生領域に放射光の集光されたX線を照射して回折像を観察することによって、その環境下での物質状態(結晶構造、相状態)をその場観測を行います。DACでは約300GPa(1GPa≒1万気圧)の圧力発生、レーザー加熱法によっては約4000Kの温度を発生させることができます。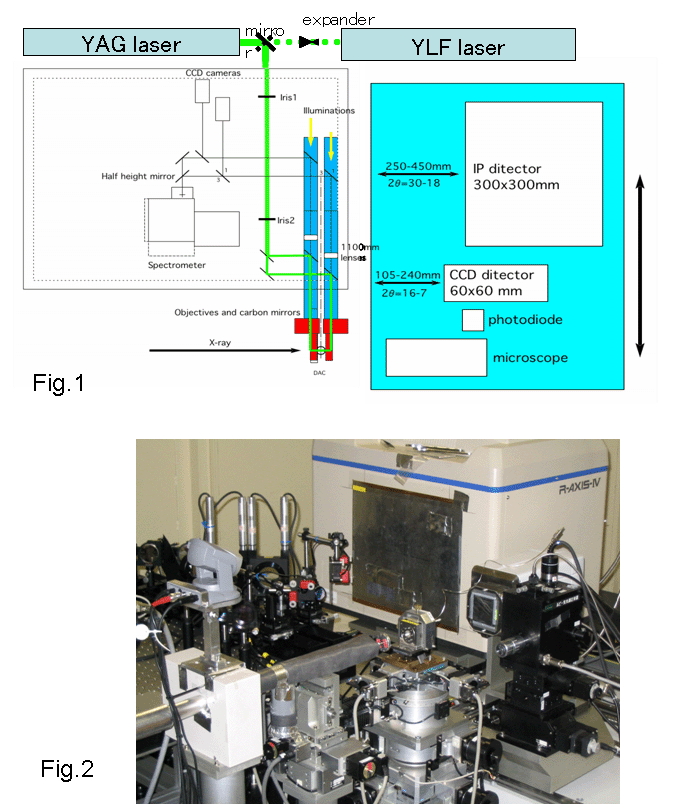 図 システム構成と写真
Source of the figure
Private communication/others
Description
JAMSTEC Nagayoshi Sata
Required time for experimental setup
3 hour(s)
Instruments
| Instrument | Purpose | Performance |
| --- | --- | --- |
| レーザー加熱装置 | 高圧・高温状態の実現 | 300GPa、4000K |
References
Document name
廣瀬敬、高圧力の科学と技術、14(2004)255
Related experimental techniques
微小結晶X線回折、電子線回折、大型プレス法

Questionnaire
The measurement was possible only in SPring-8. Impossible or very difficult in other facilities.
This solution is an application of a main instrument of the beamline.
Similar experiments account for more than 30% of the beamline's subject.
This solution is application of a new instrument installed in the past two years.

Ease of measurement
With a great skill
Ease of analysis
Middle
How many shifts were needed for taking whole data in the figure?
Four-nine shifts