Inquiry number
INS-0000001470
ABSTRACT
BL14B2 is a medium-length hard X-ray bending magnet beamline designed for engineering science researches. Target of this beamline is to promote the use of the synchrotron radiation in the industrial users. The main technique on this beamline is X-ray absorption.
The experimental hutch is located at 56 m from the source and has sizes of 6 m (along beam) × 3.75 m (W) × 3.3 m (H). X-ray imaging device and XAFS equipments are prepared in the experimental hutch.
AREA OF RESEARCH
XAFS in wide energy region (3.8 to 72 keV)
XAFS of dilute systems and thin films
Time resolved XAFS by quick scan
X-ray imaging
KEYWORDS
Scientific field
XAFS, EXAFS, XANES, Dilute sample, Thin film, X-ray imaging
Equipment
X-ray camera, Beam monitor, Zooming tube, CCD cameraIonization chambers, 19-element Ge-SSD, Lytle detector, CEY detector
SOURCE AND OPTICS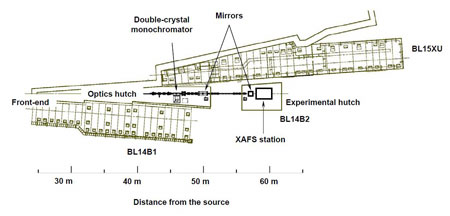 A schematic views of the beamline optics and experimental hutch
| | |
| --- | --- |
| Tunable energy range | 3.8 ~ 72 keV |
| Horizontal beam divergence | 1.0 mrad |
| Photon flux | ∼ 1010 photons/s |
| Energy resolution | ΔE/E ∼ 10-4 |
| Higher harmonics rejection ratio | ∼ 10-4 |
EXPERIMENTAL STATIONS
PUBLICATION SEARCH
* Sorry, Some parts of results are displayed using Japanese characters.
CONTACT INFORMATION
Please note that each e-mail address is followed by "@spring8.or.jp."

Hironori OFUCHI
SPring-8 / JASRI
1-1-1 Kouto, Sayo-cho, Sayo-gun, Hyogo 679-5198
Phone : +81-(0)791-58-0924
Fax : +81-(0)791-58-0830
e-mail : ofuchi
Takeshi WATANABE
SPring-8 / JASRI
1-1-1 Kouto, Sayo-cho, Sayo-gun, Hyogo 679-5198
Phone : +81-(0)791-58-0924
Fax : +81-(0)791-58-0830
e-mail : t5511001
Tetsuo HONMA
SPring-8 / JASRI
1-1-1 Kouto, Sayo-cho, Sayo-gun, Hyogo 679-5198
Phone : +81-(0)791-58-0924
Fax : +81-(0)791-58-0830
e-mail : honma
Kentaro KAJIWARA
SPring-8 / JASRI
1-1-1 Kouto, Sayo-cho, Sayo-gun, Hyogo 679-5198
Phone : +81-(0)791-58-0924
Fax : +81-(0)791-58-0830
e-mail : kajiwara
Yoshimasa URUSHIHARA
SPring-8 / JASRI
1-1-1 Kouto, Sayo-cho, Sayo-gun, Hyogo 679-5198
Phone : +81-(0)791-58-0924
Fax : +81-(0)791-58-0830
e-mail : yoshimasa.urushihara
Masafumi TAKAGAKI
SPring-8 / JASRI
1-1-1 Kouto, Sayo-cho, Sayo-gun, Hyogo 679-5198
Phone : +81-(0)791-58-0924
Fax : +81-(0)791-58-0830
e-mail : takagaki
Last modified
2023-10-25 10:31