Inquiry number
INS-0000000385
ABSTRACT
BL26B1 & B2 have been developed as RIKEN Structural Genomics Beamline I & II for high throughput protein crystallography (HTPX). The function of the beamline is to collect diffraction data of a large number of protein crystals for structural analysis. In the experimental hutch, an automatic sample changer developed at BL26 is installed to improve the throughput of the experiment. Cooperating with the sample changer, the beamline scheduling software executes the successive data collections without any user intervention. The beamline design is based on the SPring-8 standard optics for the bending magnet, which is simple and remote controllable. Two type X-ray detectors (IP and CCD) can be automatically switched according to the experimental schedule.
AREA OF RESEARCH
Structural genomics research based on single crystal X-ray diffraction
KEYWORDS
Scientific field
Structure biology, High throughput, Biological crystallography, MAD
Equipment
Mosaic CCD, Imaging plate, Sample changer, Automatic operation
SOURCE AND OPTICS
The optics of the beamline consists of standard bending magnet components. A fixed exit Si double crystal monochromator followed by a two dimensional focusing mirror is installed in the optics hutch. A fin-cooling system with the circulation of chiller water is adopted for the first crystal of the monochromator. Available energy range is from 6 to 17 keV that is suitable for MAD experiment using anomalous scattering of heavy atoms. The design of the mirror is the vertically bent cylinder of 1 meter length and glancing in downward direction. The mirror focuses the beam at the experimental hutch with the glancing angle of 3.7 mrad. The surface is Rh-coated for cutting off the high-energy components. The energy resolution of the monochromatic X-ray is 10-4 and the photon flux at the sample position is 1011 photons/sec at 12 keV monochromatic.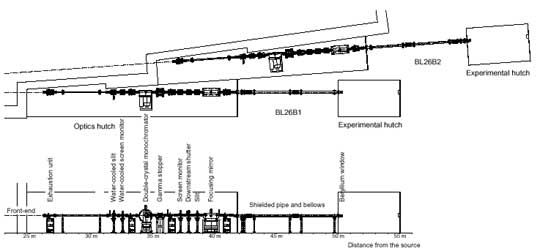 Schematic view of beamlines
EXPERIMENTAL STATIONS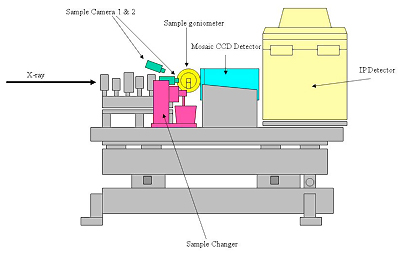 Schematic view of equipments in experimental hutch
PUBLICATION SEARCH
* Sorry, Some parts of results are displayed using Japanese characters.
BL26B1 PUBLICATION SEARCH
BL26B2 PUBLICATION SEARCH
CONTACT INFORMATION
Please note that each e-mail address is followed by "@spring8.or.jp."

Go UENO
RIKEN Harima Institute SPring-8 Center, Research Infrastructure Group
1-1-1 Kouto, Sayo-cho, Sayo-gun, Hyogo 679-5148
Phone : +81-(0)791-58-2839
Fax : +81-(0)791-58-2834
e-mail : ueno
Last modified
2023-10-25 11:05