Inquiry number
INS-0000000374
ABSTRACT
BL28B2 is a multi-purpose beamline using white X-rays. XAFS, X-ray imaging and X-ray diffraction experiments are carried out. The beamline has two experimental hutches: optics hutch (OH) 2 and OH 3. The equipment in OH 2 is energy-dispersive XAFS system, experimental system for biomedical application experiments, diffractometer and X-ray tomographic stage for long objects. An optical table is installed in OH 3.
AREA OF RESEARCH
White X-ray diffraction and topography
Time-resolved energy-dispersive XAFS (DXAFS) for studies of chemical and/or physical reaction process.
Biomedical imaging and radiation biology studies.
High energy (~200 keV) X-ray microtomography
KEYWORDS
Scientific field
Topography, Crystal defects, Dispersive XAFS
Equipment
General-purpose diffractometer, Cryostat, Dispersive XAFS measurement system
SOURCE AND OPTICS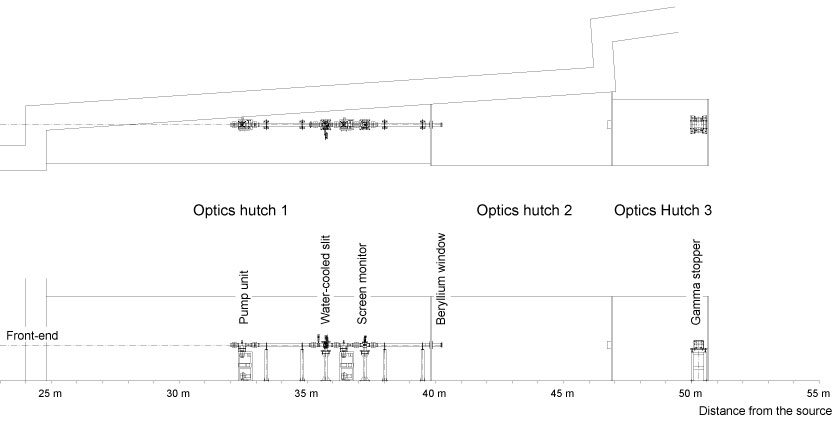 Schematic view of beamline

Schematic view of BL28B2 optics hutch 2 and 3
X-rays at Sample

Energy range
White ( > 5 keV owing to the Be window)
Beam size
50(H) × 10(V)
at 44 m from the light source
EXPERIMENTAL STATIONS
PUBLICATION SEARCH
* Sorry, Some parts of results are displayed using Japanese characters.
CONTACT INFORMATION
Please note that each e-mail address is followed by "@spring8.or.jp."

Masato HOSHINO
SPring-8 / JASRI
1-1-1 Kouto, Sayo-cho, Sayo-gun, Hyogo 679-5198
Phone : +81-(0)791-58-0833
Fax : +81-(0)791-58-0830
e-mail : hoshino
Kentaro KAJIWARA
SPring-8 / JASRI
1-1-1 Kouto, Sayo-cho, Sayo-gun, Hyogo 679-5198
Phone : +81-(0)791-58-2750
Fax : +81-(0)791-58-0830
e-mail : kajiwara
Kazuo KATO
SPring-8 / JASRI
1-1-1 Kouto, Sayo-cho, Sayo-gun, Hyogo 679-5198
Phone : +81-(0)791-58-0833
Fax : +81-(0)791-58-0830
e-mail : kkato
Masahiro YASUTAKE
SPring-8 / JASRI
1-1-1 Kouto, Sayo-cho, Sayo-gun, Hyogo 679-5198
Phone : +81-(0)791-58-0833
Fax : +81-(0)791-58-0830
e-mail : m.yasutake
Last modified
2020-09-30 16:23