Inquiry number
INS-0000000577
ABSTRACT
This beamline is served for monochromatic data collection for routine protein crystallography.
AREA OF RESEARCH
Routine data collection for macromolecular crystallography
KEYWORDS
Scientific field
Biological crystallography
Equipment
Hybrid photon counting detector PILATUS3 6M
SOURCE AND OPTICS
The optics consists of standard components for bending magnet beamline such as BL40B2. The designed glancing angle of the vertically bent cylinder mirror is from 0 to 5 mrad in a downward direction. The Rh-coated 1-m-long mirror focuses the beam at the experimental hutch with the glancing angle from 3 to 4 mrad, while the cut off energies in the angles are from 22 to 17 keV. The calculated horizontally acceptance of the beamline is about 1.5 mrad and that of the mirror is from 0.7 to 0.8 mrad.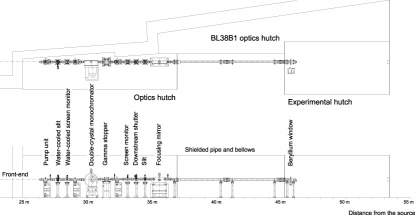 Schematic View of Beamline

Outline of optics
X-rays at Sample

| | |
| --- | --- |
| Energy range | 6.5 ∼ 16.5 keV |
| Energy resolution | 5 x 10-4 |
| Photon flux | 1010 ∼ 1011 photons/s |
EXPERIMENTAL STATIONS
Detailed Information
PUBLICATION SEARCH
* Sorry, Some parts of results are displayed using Japanese characters.
BL38B1 PUBLICATION SEARCH
CONTACT INFORMATION
Please note that each e-mail address is followed by "@spring8.or.jp."

Seiki BABA
SPring-8 / JASRI
1-1-1 Kouto, Sayo-cho, Sayo-gun, Hyogo 679-5198
Phone : +81-(0)791-58-0833
Fax : +81-(0)791-58-0830
e-mail : baba
Hideo OKUMURA
SPring-8 / JASRI
1-1-1 Kouto, Sayo-cho, Sayo-gun, Hyogo 679-5198
Phone : +81-(0)791-58-0833
Fax : +81-(0)791-58-0830
e-mail : okumurah
Yuki NAKAMURA
SPring-8 / JASRI
1-1-1 Kouto, Sayo-cho, Sayo-gun, Hyogo 679-5198
Phone : +81-(0)791-58-0833
Fax : +81-(0)791-58-0830
e-mail : y-nakamu
Last modified
2018-10-15 14:34