BL41XU Protein crystal diffractometer
Inquiry number
INS-0000000343
Protein crystal diffractometer
The diffractometer consists of three parts: Vacuum chamber, sample mounting part and detector. In the vacuum chamber, there are two sets of four-way guard slits, two units of rotary attenuator, two beam intensity monitors, and the beam shutter. The size and intensity of X-ray can be changed by using these components.
The sample mounting part consists of an air-bearing goniometer, an on-axis microscope, a collimator and a cryo-cooler. The air-bearing goniometer has an advantage of very small eccentricity of 0.7 mm, which enables data collection using very small crystal. The on-axis microscope enables sample positioning of very small crystals by observing sample from the direction of the incident beam. The cryo-cooler can use both nitrogen and helium gas as a cooling gas. The minimum temperature of nitrogen and helium cooling is 90 K and 20 K, respectively.
On this diffractometer, hybrid pixel detector (DECTRIS PILATUS3 6M) can be equipped. Since sample changer SPACE developed at SPring-8 is also equipped on the diffractometer, it is possible to conduct efficient sample screening.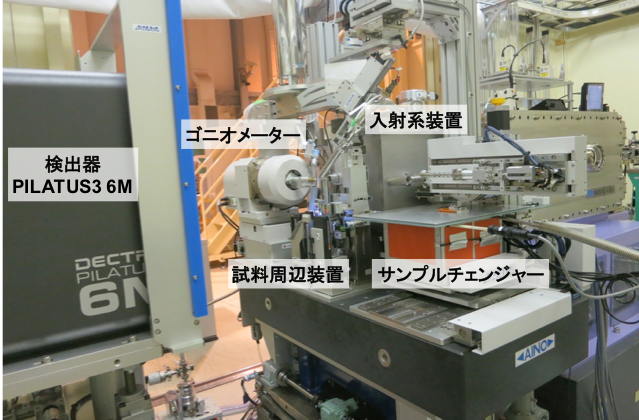 Specifications of diffractometer

Usable beam size : 12 x 4mm2 〜 35 x 22mm2
Usable attenuator : aluminum foil of 10 ∼ 7000 mm thickness
Rotation angle of spindle axis: no restriction
Rotation speed of spindle axis : 180 ° / sec.
Sample translation for centering (X): ± 4.0 mm, (Y): ± 15.0 mm, (Z): ± 4.0mm
Temperature range of cryo-cooler : 300 〜 90 K (nitrogen gas) 〜 20 K (helium gas)



Specifications of the hybrid pixel detector (DECTRIS PILATUS3 6M)

Detector area : 423.6 × 434.6 mm2
CCD size : 2463 × 2527 pixels
Pixel size : 172 × 172 mm2
ADC : 20 bit
Read-out time : 0.95 msec/image
Camera length: 120 ∼ 800 mm



Sample changer SPACE

Peltiert-cooled silicon drift detector AmpTek Super SDD XR-100SDD
Multi-channel analyzer SEIKO EG&G MCA7700
Microscope
Incubator (4, 20°C)
Liquid nitrogen Dewar vessel
Last modified
2022-05-06 15:34