Inquiry number
SOL-0000001632
Beamline
BL41XU (Structural Biology I)
Scientific keywords
| | |
| --- | --- |
| A. Sample category | biology, medicine, research on method, instrumentation |
| B. Sample category (detail) | biomolecule, crystal, protein, pharmaceuticals |
| C. Technique | X-ray diffraction |
| D. Technique (detail) | single crystal |
| E. Particular condition | low-T (~ liquid N2) |
| F. Photon energy | X-ray (4-40 keV) |
| G. Target information | molecular structure, structure analysis, function and structure |
Industrial keywords
| | |
| --- | --- |
| level 1---Application area | Pharmaceuticals |
| level 2---Target | process analytical technology (PAT) |
| level 3---Target (detail) | protein, drug |
| level 4---Obtainable information | crystal structure |
| level 5---Technique | diffraction |
Classification
A80.50 Pharmaceuticals, M10.10 single crystal diffraction
Body text
フラジェリンは、細菌の鞭毛を構成するタンパク質の1つです。このフラジェリンのフラグメントF41の結晶は、縦100µm横300µm、厚さ10µm以下の非常に薄い薄片結晶にしか成長しません(図1)。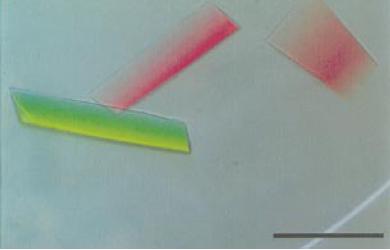 図1. フラジェリン・フラグメントF41の薄片結晶の写真
右下のバーは300µmを表しています。
[ F. A. Samatey, K. Imada, F. Vonderviszt, Y. Shirakihara and K. Namba, Journal of Structural Biology 12, 106-111 (2000), Fig. 1,
©2000 Elsevier B. V. ]
実験室レベルのX線発生装置や従来施設のベンディングマグネットを光源に持つビームラインでは、このような超薄片結晶から解析可能なX線回折像を得ることは非常に困難でした。しかしBL41XUの持つアンジュレータからの高輝度なX線を利用することで高分解能・高精度なX線回折データを取得することができました。
Source of the figure
Original paper/Journal article
Journal title
F. A. Samatey, et al., J Struct Biol., 132(2), 106-111 Nov (2000)
Figure No.
1
Technique
Source of the figure
No figure
Required time for experimental setup
0 hour(s)
Instruments
References
Document name
F. A. Samatey, et al., J Struct Biol., 132(2), 106-111 Nov. (2000)
Related experimental techniques
Questionnaire
The measurement was possible only in SPring-8. Impossible or very difficult in other facilities.
This solution is an application of a main instrument of the beamline.

Ease of measurement
Middle
Ease of analysis
Middle
How many shifts were needed for taking whole data in the figure?
Four-nine shifts