Inquiry number
INS-0000001484
ABSTRACT
BL46XU is an industrial applications beamline with an undulator light source and used for promoting utilization of synchrotron radiation by industry. A multi-axis X-ray diffractometer and hard X-ray photoemission spectroscopy device has been installed in the experimental hutch. The XPS device can be replaced by a small x-ray diffractometer for structure evaluation of thin films in a simple exchange procedure within the experimental hutch.
Using the multi-axis X-ray diffractometer (HUBER 8-axis diffractometer), you can carry out not only general X-ray diffraction/scattering measurement but also grazing-incident X-ray diffraction and X-ray reflectivity measurement to characterize structure of thin films, surface, and interface or residual strain measurement by X-ray diffraction. There are various utilities in the peripheral devices to meet a variety of analytical needs from users. For example, a two-dimensional pixel detector allows you to perform in-situ time-resolved X-ray diffraction experiments.
The hard X-ray spectroscopy system utilizes hard X-ray (6-8keV) from high brilliance synchrotron radiation of SPring-8 to excite high-energy photoelectrons with a large escape depth, achieving probing depth of 20nm that is sufficient for the electronic state analysis deep inside the material.

AREA OF RESEARCH
Structural characterization of thin film by X-ray diffraction and X-ray reflectivity measurement
Residual stress measurement
Time resolved X-ray diffraction
Hard X-ray Photoemission Spectroscopy
X-ray Imaging
KEYWORDS
Scientific field
X-ray diffraction/scattering, thin film, surface, interface, residual strain, hard X-ray photoemission spectroscopy
Equipment
8-axis X-ray diffractometer (HUBER), hard X-ray photoemission spectroscopy system (R-4000, Scienta Omicron), X-ray diffractometer for structure characterization of thin films (ATX-G, RIGAKU)
SOURCE AND OPTICS
Light source is a standard in-vacuum undulator in SPring-8 and optics adopts a Si (111) direct water-cooled inclined double-crystal monochromator. The tunable energy range is 6-35 KeV. Two Rh-evaporated mirrors (70cm length, reflection direction is horizontal) are placed in the most downstream part of the optics hutch to eliminate harmonics. The mirrors have curvature for horizontal light focus. A Si (111) channel-cut monochromator is placed between the monochromator and the mirrors to get incident X-ray with fine energy resolution for hard X-ray photoemission spectroscopy.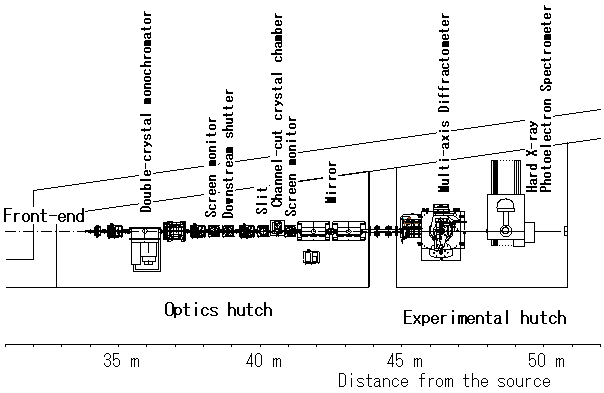 X-rays at Sample

| | |
| --- | --- |
| Energy Range | 6 ~ 37 keV |
| Energy Resolution | ΔE/E ~10-4 |
| Photon Flux | ~1013photon/s |
| Beam Size | <0.5(H) × 0.5(V) |
EXPERIMENTAL STATIONS
PUBLICATION SEARCH
* Sorry, Some parts of results are displayed using Japanese characters.
CONTACT INFORMATION
Please note that each e-mail address is followed by "@spring8.or.jp."

Satoshi YASUNO
SPring-8 / JASRI
1-1-1 Kouto, Sayo-cho, Sayo-gun, Hyogo 679-5198
Phone : +81-(0)791-58-0924
Fax : +81-(0)791-58-0830
e-mail : yasuno
Tomoyuki KOGANEZAWA
SPring-8 / JASRI
1-1-1 Kouto, Sayo-cho, Sayo-gun, Hyogo 679-5198
Phone : +81-(0)791-58-0924
Fax : +81-(0)791-58-0830
e-mail : koganeza
Kentaro Kajiwara
SPring-8 / JASRI
1-1-1 Kouto, Sayo-cho, Sayo-gun, Hyogo 679-5198
Phone : +81-(0)791-58-0924
Fax : +81-(0)791-58-0830
e-mail : kajiwara
Last modified
2020-09-30 16:28