Success in Developing New Polymer Brush Films Capable of Converting Light Energy into Kinetic Energy(Press Release)
Release Date

05 Nov, 2010
BL45XU (RIKEN Structural Biology I)
-First-Ever Success in Large-Area Three-Dimensional Molecular Ordering to Create New Functions-
RIKEN
Key research findings
○ Upon hot-pressing a polymer brush sandwiched between Teflon sheets, the polymer brush self-assembles into a highly functional film.
○ Fine structural changes on the molecular level are converted into a macroscopic deformation of the film by one-step processing.
○ The new polymer films are expected to be used as various functional materials such as artificial muscles that can move upon light irradiation and organic thin-film solar cells.
 Scientists at RIKEN (Ryoji Noyori, President) succeeded in developing a one-step method for the large-area three-dimensional molecular ordering of a polymer brush*2 carrying photoresponsive azobenzene*1 -containing mesogenic side chains. They showed that the thus-obtained polymer brush film moves mechanically upon the irradiation of light as if it were a muscle.
 This achievement was obtained by Takuzo Aida, Group Director of the Functional Soft Matter Research Group; Takanori Fukushima, Team Leader of the Energy Conversion Research Team; Nobuhiko Hosono, an intern (also a doctoral student at The University of Tokyo) of RIKEN Advanced Science Institute (Kohei Tamao, Director); and Masaki Takata, a chief scientist of Structural Materials Science Laboratory of the RIKEN SPring-8 Center. A technique for the large-area regular ordering of functional molecules will be invaluable for the development of next-generation materials. However, it is very difficult to synthesize a molecular assembly of centimeter order; despite several attempts, an effective method has not been established. The research group found, for the first time, that a polymer brush sandwiched between stretched Teflon sheets (Teflon® is a registered trademark of DuPont) self-assembles into a three-dimensional hierarchical structure*3 by one-step hot-pressing, similar to ironing, of the polymer brush, which carries azobenzene-containing mesogenic side chains as photoresponsive units. They examined the internal structure of the polymer brush film in detail using SPring-8 BL45XU X-ray synchrotron radiation*4 and found a structure with a unique molecular orientation in which the polymer brush forms a regular three-dimensional assembled structure and the polymer backbone aligns homeotropically with the film plane. Because of the unique molecular orientation of this structure, fine movements of the polymer brush at the molecular level integrate to induce a macroscopic deformation in one direction, i.e., the polymer film bends, when the ultraviolet rays irradiated onto the azobenzene molecules in the polymer brush cause them to change their structure. Namely, it was found that this new polymer material has a marked photoresponsive function of converting light energy into kinetic energy. This method enables large-area hierarchical molecular ordering based on an extremely simple principle, and it is hoped that it will bring about an innovation in the development of next-generation functional materials, in addition to its application in material production processes.
 These research achievements were published in the American scientific journal Science on 5 November 2010.
(Publication)
"Large-Area Three-Dimensional Molecular Ordering of a Polymer Brush by One-Step Processing"
Nobuhiko Hosono, Takashi Kajitani, Takanori Fukushima, Kazuki Ito, Sono Sasaki, Masaki Takata, and Takuzo Aida
Science 330(6005), 808 - 811 (2010), published online 5 November 2010.
---
《Glossary》
*1 Azobenzene molecule
 Azobenzene is a compound composed of two benzene rings linked by a N=N double bond (azo group). Azobenzene strongly absorbs visible light, has a dark color, and has been used as a dye since early times. It is a typical molecule exhibiting photoisomerization; trans azobenzene, which is its normal state, is converted to cis azobenzene by the irradiation of ultraviolet rays, whereas cis azobenzene is converted to trans azobenzene by the irradiation of visible light. The distance between carbon atoms at the terminals of the azobenzene molecule is changed from 9 to 5.5 Å (1 Å =10–10m) by this photoisomerization.
*2 Polymer brush
 A polymer brush is a structure in which many long side chains densely branch from a main chain. The structure resembles that of a bottle-cleaning brush. The longer the side chains, the more the structure resembles a cylinder owing to repulsion between the side chains.
*3 Hierarchical structure
 Several structures assemble to form a unit, and such units further assemble to form a larger unit. A hierarchical structure is a structure formed by repeating such assembly and can be seen in various biological tissues and proteins.
*4 X-ray synchrotron radiation
 X-ray synchrotron radiation is a thin intense electromagnetic wave generated when electrons are accelerated to approximately the speed of light and their traveling direction is bent by electromagnets.
---
《Figure》

Fig. 1 Molecular structure (left) and schematic (middle) of polymer brush, and bottle-cleaning brush (right)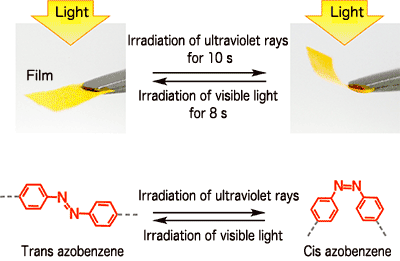 Fig. 2 Film deformation upon irradiation of light (upper) and
structural change of azobenzene caused by photoisomerization (lower)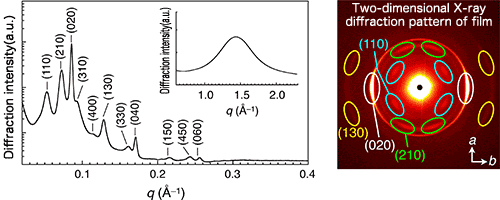 Fig. 3 X-ray diffraction pattern of two-dimensional lattice of polymer brush
(Left) X-ray diffraction pattern at 115℃
(Right) Two-dimensional diffraction pattern of a film with the polymer backbone aligned homeotropically with the film plane

Fig. 4 Schematic of hierarchical structure of polymer brush
---
For more information, please contact:
Prof. Takuzo Aida (RIKEN)
E-mail:


or
E-mail: