Structural Clarification of Enzyme Contributing to Efficient Metabolism of Bifidobacteria (Press Release)
Release Date

29 Oct, 2010
BL38B1 (Structural Biology III)
The University of Tokyo
 Bifidobacteria have an efficient unique glycolytic pathway (metabolic pathway of glucose). In this study, scientists from The University of Tokyo and collaborative researchers have clarified the three-dimensional structure of phosphoketolase, an enzyme playing key roles in the unique glycolytic pathway. They also clarified details of the mechanisms of reactions catalyzed by phosphoketolase, such as dehydration using thiamine pyrophosphate (TPP) (active vitamin B1) and the synthesis of acetyl phosphate from intermediates generated as a result of the dehydration in the presence of phosphate.
(Publication)
"Crystal Structures of Phosphoketolase: Thiamine Diphosphate-Dependent Dehydration Mechanism"
Ryuichiro Suzuki, Takane Katayama, Byung-Jun Kim, Takayoshi Wakagi, Hirofumi Shoun, Hisashi Ashida, Kenji Yamamoto, and Shinya Fushinobu
Journal of Biological Chemistry 285 (44), 34279-34287 (2010), published online 24 August 2010
 Bifidobacteria are typical beneficial bacteria among human intestinal bacteria, and have been reported to have beneficial effects on human health, such as improving intestinal disorders and immunopotentiation of intestinal tracts.
 Bifidobacteria are anaerobic bacteria inhabiting intestines, requiring only a small amount of oxygen, and mainly utilize energy from anaerobic fermentation. Bifidobacteria are one type of lactobacilli and are heterofermentative lactobacilli,*1 which produce acetic acid and other acids in addition to lactic acid. It has long been known that bifidobacteria have a uniqueglycolytic pathway*2 called the bifid shunt. In the Embden-Meyerhof pathway, which is a well-known general glycolytic pathway, two molecules ofadenosine triphosphate (ATP)*3 are produced from a molecule of glucose. In the bifid shunt, 5 molecules of ATP are produced from two molecules of glucose. Therefore, the bifid shunt is 1.25-fold more efficient than the Embden-Meyerhof pathway(Fig. 1). Phosphoketolase*4 4 is an enzyme that plays key roles in this bifid shunt. It catalyzes a reaction in which phosphate, added to a substrate, produces acetyl phosphate, which is the source of ATP and acetic acid.
 Although phosphoketolase was first discovered in 1958, its three-dimensional structure had remained unclear until just recently. In this study, the three-dimensional structure of phosphoketolase was clarified by X-ray crystallography*5(Fig. 2).  In addition, the mechanism of enzymatic reaction at the atomic level was successfully clarified in detail through the crystallography of intermediates of reactions and complexes of the intermediates with phosphates.
 Phosphoketolase uses TPP*6 as the coenzyme; however, its reaction is different from the enzymatic reactions using TPP conventionally known in the following two points(Fig. 3).
(1)A dihydroxyethyl TPP intermediate is dehydrated to become an acetyl TPP intermediate.
(2)Phosphate is added to the acetyl TPP intermediate to produce acetyl phosphate.
In this study, the structures of dihydroxyethyl and acetyl TPP intermediates were successfully observed, revealing details of the dehydration mechanism (Fig. 4). Also, upon determination of the structure of complexes of the intermediates with phosphates, the mechanism underlying the synthesis of acetyl phosphate from the acetyl TPP intermediate was clarified in detail (Fig. 5).
In this study, scientists from The University of Tokyo have clarified the mechanism underlying the efficient energy metabolism of bifidobacteria, the typical beneficial bacteria, and have partly revealed the mechanism of their proliferation in intestinal tracts. They also clarified details of an enzymatic reaction that remained unclear, i.e., dehydration using TPP. Various applications of these research achievements are expected; for example, improvement of the efficiency of metabolism by introducing efficient enzymes of bifidobacteria into other effective microorganisms.
This research was carried out in collaboration with Kyoto University and Ishikawa Prefectural University. The Photon Factory (Tsukuba City, Ibaraki Prefecture) of the Institute of Materials Structure Science of the High Energy Accelerator Research Organization and the Structural Biology III Beamline BL38B1) at SPring-8 were used in the measurement of X-ray diffraction. This research was included in a series of studies with the theme of "Development of practical technology for producing milk oligosaccharide by designing enzymes" conducted under the program for the Promotion of Basic Research Activities entrusted by the Bio-oriented Technology Research Advancement Institution.
---
《Glossary》
*1 Heterofermentative lactobacilli
 Bacteria that produce lactic acid through metabolic reaction are collectively called lactobacilli. Lactobacilli that produce acetic acid, alcohol, and other products in addition to lactic acid are called heterofermentative lactobacilli. Lactobacilli that produce lactic acid only are called homofermentative lactobacilli.
*2 Glycolytic pathway
 The glycolytic pathway refers to a metabolic pathway through which glucose is decomposed into organic acids such as pyruvic acid. This is one of the most fundamental metabolic pathways. There are several types of glycolytic pathway, among which the Embden-Meyerhof pathway is the most common and is found in almost all eukaryotes and anaerobic bacteria. In the glycolytic pathway of lactobacilli, pyruvic acid is converted into lactic acid in the presence of lactate dehydrogenase.
*3 Adenosine triphosphate (ATP)
 ATP has high-energy phosphate bonds and is involved in various reactions to provide energy to living organisms as the "energy currency." It also plays a key role in phosphoryl transfer, which is a chemical reaction crucial for cellular activities.
*4 Phosphoketolase
 Phosphoketolase is an enzyme that catalyzes a reaction in which glyceraldehyde 3-phosphate (or erythrose 4-phosphate), H2O, and acetyl phosphate are produced from xylulose 5-phosphate (or fructose 6-phosphate) and phosphate (see Fig. 3). Phosphoketolase is found in some microorganisms, such as lactobacilli, yeasts, and fungi. However, the phosphoketolase that can use fructose 6-phosphate as an optimal substrate has been found only in bifidobacteria.
*5 X-ray crystallography
 X-ray crystallography is one of the most common methods to determine the three-dimensional structure of enzymes (proteins). The detailed three-dimensional structure of a target material can be determined by irradiating X-rays onto its crystal and analyzing diffraction data.
*6 Thiamine pyrophosphate (TPP)
 TPP is an activated thiamine (vitamin B1), to which two phosphates are bound. TPP functions as a coenzyme and assists in reactions of various important metabolic enzymes. Vitamin B1 was named orizanin by a Japanese scientist, Dr. Umetaro Suzuki, who extracted it from rice bran as a factor to prevent beriberi in around 1910.
---
《Figure》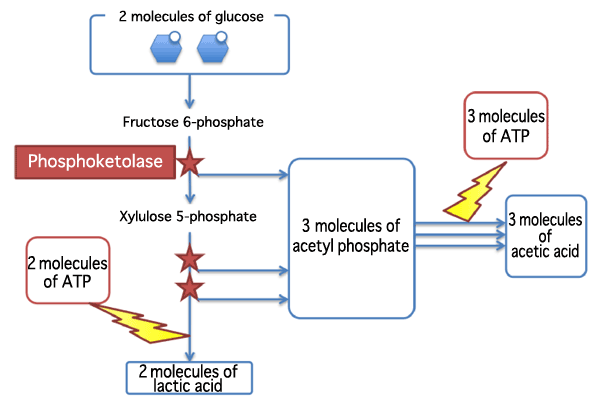 Fig. 1 Schematic of bifid shunt
Two molecules of lactic acid, three molecules of acetic acid, and five molecules of ATP are produced from two molecules of glucose. Phosphoketolase catalyzes the decomposition of two molecules of glucose in three steps. The phosphoketolase in bifidobacteria can use fructose 6-phosphate as an optimal substrate in addition to xylulose 5-phosphate, making the metabolic reaction more efficient.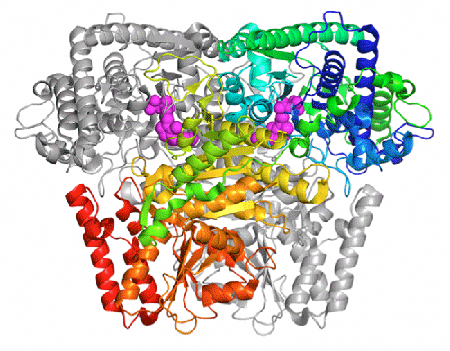 Fig. 2 Overall structure of phosphoketolase
Phosphoketolase forms a dimeric structure in which two molecules are tightly bound (one molecule is shown in grey). TPP (shown as purple balls) bound to the phosphoketolase is involved in its reaction.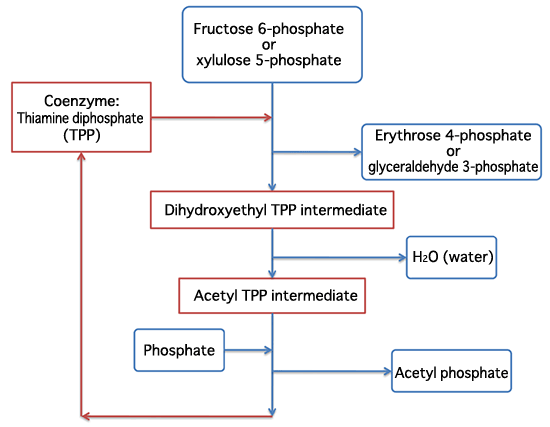 Fig. 3 Schematic of reaction catalyzed by phosphoketolase
A substrate binds to the coenzyme TPP. The reaction proceeds via intermediates.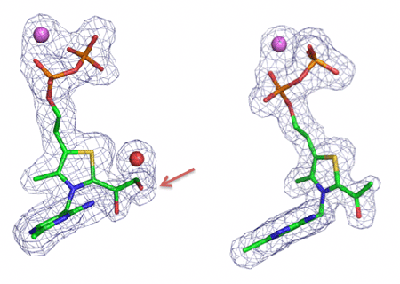 Fig. 4 Structures of dihydroxyethyl TPP intermediate (left) and acetyl TPP intermediate (right)
The section indicated by a red arrow (hydroxyl group) is removed to produce a H2O molecule.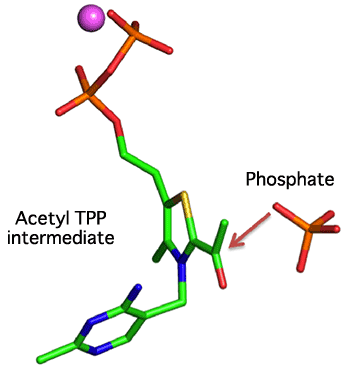 Fig. 5 Structure of acetyl TPP intermediate and its reaction with phosphate to form a complex
Phosphate reacts with an acetyl TPP intermediate in the direction indicated by a red arrow.
---
For more information, please contact:
Dr. Shinya Fushinobu (The University of Tokyo)
E-mail:


or
Prof. Takayoshi Wakagi (The University of Tokyo)
E-mail:

Previous Article
Current article

Structural Clarification of Enzyme Contributing to Efficient Metabolism of Bifidobacteria (Press Release)