How a Fungi-derived Antifreeze Protein Works: Elucidation of Molecular Structure and Antifreeze Mechanism (Press Release)
Release Date

29 May, 2012
BL44B2 (RIKEN Materials Science)
- Fungi produce proteins that deliver a powerful antifreeze function -
National Institute of Advanced Industrial Science and Technology
Synopsis
• Antifreeze proteins produced by fungi stick fast onto an ice crystal and hinder its growth.
• Fungi capable of mass cultivation can be a novel, low cost source for antifreeze proteins.
• Volume production of antifreeze proteins hold promise for technology development for stable frozen storage of food products and biological cells.
The researchers at National Institute of Advanced Industrial Science and Technology (President: Tamotsu Nomakuchi) led by Dr. Sakae Tsuda (Senior Researcher, Bioproduction Research Institute [Director: Yoichi Kamagata]) and Dr. Hidemasa Kondo (Senior Researcher, Synthetic Bioengineering Research Group), in collaboration with researchers at Hokkaido University (President: Hiroshi Saeki), RIKEN (President: Ryoji Noyori), and Queen's University (Canada), determined the steric structure of a fungus antifreeze protein (produced by Ishikari Gamanoho-take*1) using X-ray crystal analysis, and elucidated its adsorption mechanism onto ice crystals.
Ishikari Gamanoho-take is a fungus species that occurs in cold-weather regions. The research and development reported here revealed that the antifreeze protein*2 produced by the species has a powerful effect of blocking ice crystal growth, providing it with a powerful antifreeze function. Ishikari Gamanoho-take is a mass cultivation feasible fungus. Therefore it may be a promising source for low-cost production of antifreeze proteins, leading to the promotion of frozen storage technologies for stable preservation of such perishable items as food products and biological cells.
The results of the research were published on the online version of Proceedings of the National Academy of Sciences of the United States of America (a US scientific journal) on May 29, 2012 (JST).
Publication:
"Ice-binding site of snow mold fungus antifreeze protein deviates from structural regularity and high conservation."
Hidemasa Kondo, Yuichi Hanada, Hiroshi Sugimoto, Tamotsu Hoshino, Christopher P. Garnham, Peter L. Davies, and Sakae Tsuda
Proceedings of the National Academy of Sciences of the United States of America 109 24, 9360-9365 (2012), published online 29 May 2012
<<Figures>>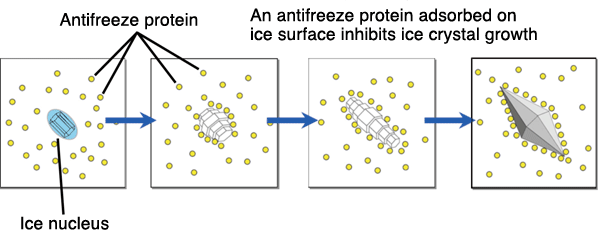 How an antifreeze protein inhibits ice crystal growth (schematic illustration)
---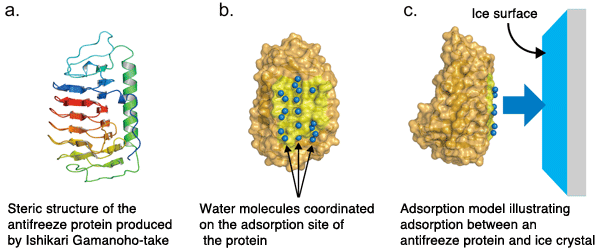 Fig.1.
(a) Steric structure of Tis antifreeze protein, (b) Molecular surface of Tis antifreeze protein. Adsorption site on the ice surface is shown in yellow, (c) Schematic representation of Tis antifreeze protein adsorbed on an ice crystal.
---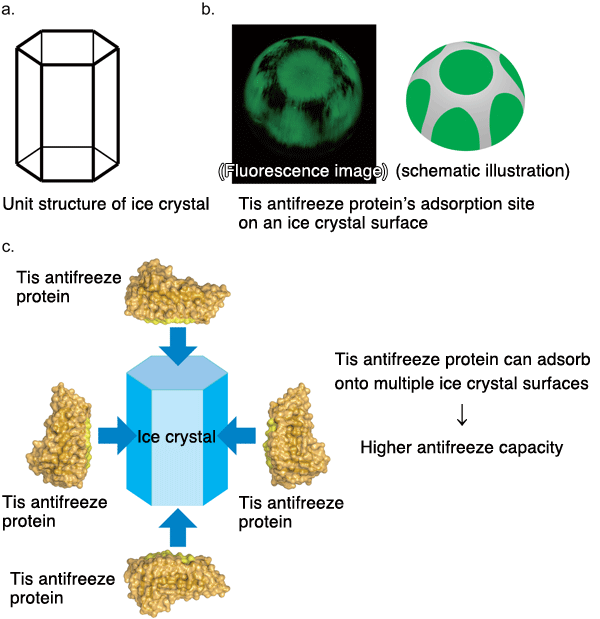 Fig.2.
(a) Unit structure of ice crystal, (b) Adsorption site of Tis antifreeze protein on ice crystal surface, (c) Schematic representation of ice crystal surface on which a Tis antifreeze protein adsorbs
---
<<Glossary>>
*1 Ishikari Gamanoho-take
The Japanese designation of a fungus whose scientific name is Typhula Ishikariensis. It is one form of basidiomycoetuous that makes its habitat on gramineae grasses, and can grow only under a blanket of snow in such areas as pasture and wheat fields.
*2 Antifreeze protein
"Antifreeze proteins" refer to a class of proteins that have the property of sticking fast to a specific facet of ice crystals. The ice crystal with an antifreeze protein stuck to it is hindered from free growth, leading to a deformed shape of the ice crystal and observation of freezing-point depression of the aqueous solution.
---
For more information, please contact:
  Ph.D. Hidemasa Kondo (National Institute of Advanced Industrial Science and Technology)
    E-mail:

Previous Article
Current article

How a Fungi-derived Antifreeze Protein Works: Elucidation of Molecular Structure and Antifreeze Mechanism (Press Release)