孤立五員環則を破るフラーレン分子Sc2@C66の構造決定
Inquiry number
SOL-0000001271
Beamline
BL02B2 (Powder Diffraction)
Scientific keywords
| | |
| --- | --- |
| A. Sample category | organic material |
| B. Sample category (detail) | semiconductor, solid-state crystal, crystal |
| C. Technique | X-ray diffraction |
| D. Technique (detail) | powder diffraction |
| E. Particular condition | room temperature |
| F. Photon energy | X-ray (4-40 keV) |
| G. Target information | molecular structure, structure analysis, crystal structure, charge density |
Industrial keywords
| | |
| --- | --- |
| level 1---Application area | Semiconductor |
| level 2---Target | |
| level 3---Target (detail) | |
| level 4---Obtainable information | crystal structure |
| level 5---Technique | diffraction |
Classification
A80.12 semiconductor, M10.20 powder diffraction
Body text
粉末回折法は 結晶構造を調べることのできる強力な手法です。この手法を用いることで、結晶性物質の 原子位置、格子定数などを決定することができます。また、放射光を用いることにより、構造パラメータだけではなく結合状態や価数といった物性の発現と密接に関連した電子密度レベルでの構造を明らかにすることも可能です。図に示すのは、 金属内包フラーレンSc2@C66について測定した回折データを解析して得られた電子密度分布です。この結果から、孤立五員環則を破る新しい構造を持つフラーレンが存在することがわかりました。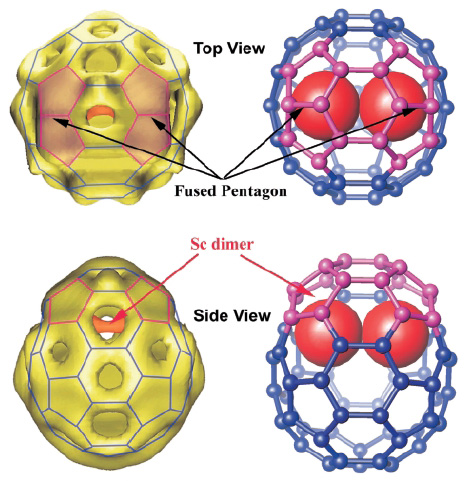 図 Sc2@C66の電子密度分布(左)とその構造モデル(右)
Source of the figure
Original paper/Journal article
Journal title
SPring-8 利用者情報, 6 (2001) 116.
Figure No.
4
Technique
放射光を用いた粉末回折法は、結晶構造を調べられる強力な測定方法です。この方法は、数ミリグラムの極微量しか得られない粉末試料にも適用でき、新規構造に関する情報を得ることができます。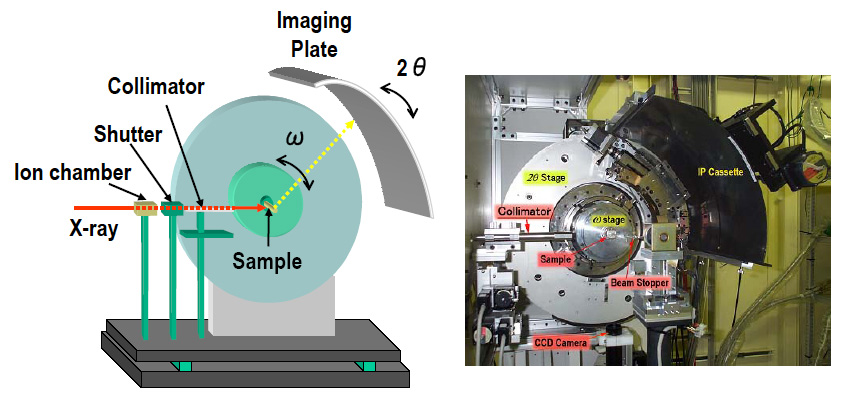 図 大型デバイシェラーカメラの模式図(左)と写真(右)
Source of the figure
Presentation material for Beamline Report
Required time for experimental setup
1 hour(s)
Instruments
| Instrument | Purpose | Performance |
| --- | --- | --- |
| 大型デバイシェラーカメラ | 粉末結晶構造解析 | カメラ半径:286.48mm, 温度:15-1000K |
References
Document name
C. R. Wang et al., Nature, 408 (2000) 426.
Related experimental techniques
単結晶構造解析

Questionnaire
The measurement was possible only in SPring-8. Impossible or very difficult in other facilities.
This solution is an application of a main instrument of the beamline.

Ease of measurement
With a great skill
Ease of analysis
With a great skill
How many shifts were needed for taking whole data in the figure?
Four-nine shifts