Inquiry number
INS-0000000300
ABSTRACT
 BL19B2 is a medium-length hard X-ray bending magnet beamline designed for engineering science researches. Target of this beamline is to promote the use of the synchrotron radiation in the industrial users. The main techniques on this beamline are X-ray diffraction and scattering.
 The beamline has three experimental hutches. The first experimental hutch is located at 51 m from the source and has sizes of 4 m (along beam) × 3 m (W) × 3.3 m (H). The second and the third experimental hutches are located at 77 m and 111 m from the source and have sizes of 5 m (along beam) × 4 m (W) × 3.3 m (H) and 8 m (along beam) × 4 m (W) × 3.3 m (H), respectively. A versatile high-throughput diffractometer (powder diffractometer) in the first hutch and a multi-axis diffractometer in the second experimental hutch are installed, respectively. Two dimensional detectors for small-angle (ultra-small angle) X-ray scattering are installed in the third experimental hutch.
AREA OF RESEARCH
Residual stress measurement, and structural analysis of thin film, surface and interface
Powder diffraction
X-ray topography
Small angle X-ray scattering (Ultra-small angle scattering)
KEYWORDS
Scientific field
X-ray diffraction, Grazing incidence X-ray Scattering, CTR, Reflectmetry, Structural analysis, Small-angle X-ray scattering, Ultrasmall-angle X-ray scattering
Equipment
Ionization chambers, Multi-axis diffractometer, High and low temperature gas flow instruments, Imaging Plate, X-ray camera, Beam monitor
SOURCE AND OPTICS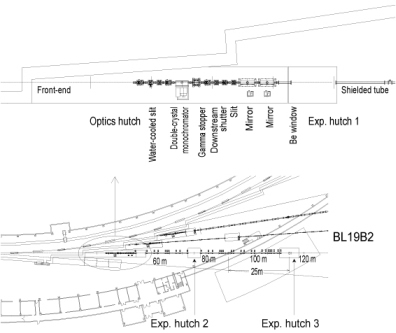 A schematic views of the beamline optics and experimental hutches
X-rays at Sample

| | |
| --- | --- |
| Tunable energy range | 5~72 keV |
| Horizontal beam divergence | 1.4 mrad |
| Photon flux | ∼ 109 photons/s |
| Energy resolution | ΔE/E ∼ 10-4 |
| Higher harmonics rejection ratio | ∼ 10-4 |
EXPERIMENTAL STATIONS
Small-angle (Ultrasmall-angle) X-ray scattering
PUBLICATION SEARCH
* Sorry, Some parts of results are displayed using Japanese characters.
CONTACT INFORMATION
Please note that each e-mail address is followed by "@spring8.or.jp."

Keiichi OSAKA
SPring-8 / JASRI
1-1-1 Kouto, Sayo-cho, Sayo-gun, Hyogo 679-5198
Phone : +81-(0)791-58-0924
Fax : +81-(0)791-58-0830
e-mail : k-osaka
Last modified
2022-05-06 15:31