BL23SU Surface chemistry experimental station
問い合わせ番号
INS-0000000368
Surface chemistry experimental station
The surface chemistry experimental station was designed to study chemical reaction dynamics at surfaces and was installed in the experimental hall of the storage ring building. The apparatus consists of 6 vacuum chambers; the load lock chamber, the surface preparation chamber, the scanning probe microscope (SPM) chamber, the reaction chamber, the synchrotron radiation (SR) monitor chamber, and the supersonic molecular beam (SSMB) generator. Surface cleaning can be performed in the surface preparation chamber using an Ar-ion sputtering gun and sample annealing up to 1450 K. Reconstructed structures and chemical components at surfaces are observable by low-energy electron diffraction (LEED) and Auger electron spectroscopy (AES) techniques. A gas doser with a W filament and a variable leak valve is used for adsorption of atoms and molecules with thermal energy. A scanning tunneling microscope (STM) and an atomic force microscope (AFM) are available at room temperature in the SPM chamber using an Omicron UHV-SPM apparatus. In the reaction chamber, the SSMB and the monochromatic SR beam can be irradiated simultaneously at a sample surface so that real-time in-situ photoemission spectroscopy can be performed in a temperature range of 150 K to 1450 K using an Omicron EA125 electron energy analyzer with 5 channeltrons or 64 channel detectors. Scattered and desorbed species from the sample are also detected by a differentially-pumped quadruple mass analyzer (Q-mass) using reactive molecular beam scattering (RMBS) techniques. This Q-mass is also used in temperature-programmed desorption (TPD) measurements. An Ar-ion sputtering gun, an Al/Mg twin-anode X-ray source and a gas doser with a variable leak valve are also available in the reaction chamber. The SR monitor chamber is used for absolute and relative SR intensity measurements with an Au-coated W mesh and an IRD photodiode, SR intensity attenuation with Al filters, and SR beam shaping with XY-slits. The chamber plays a role of differential pumping to prevent gas diffusion into the beamline. Gas dose with thermal and hyperthermal energy and measurements of fast XPS, TPD, RMBS, STM/AFM, LEED/AES are available in this experimental station.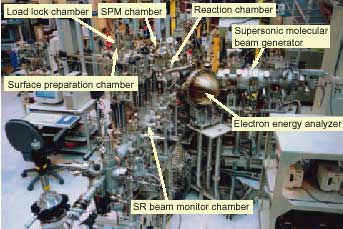 Fig. 1 A photograph of the surface reaction analysis apparatus(SUREAC2000)
The monochromatic synchrotron radiation and supersonic molecular beams can be irradiated to the sample surface simultaneously so that real-time in-situ photoemission spectroscopy and surface reaction dynamics studies can be performed in this experimental station.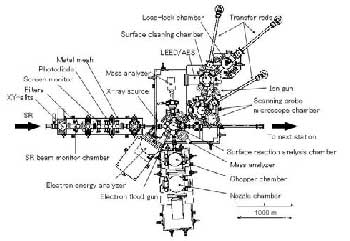 Fig. 2 A Top view of the SUREAC 2000