Harima-Shingu - SPring-8 Line
Current as of April 1, 2023

(*) The PDF Time Table for printing is also available.
Aioi Station - SPring-8 Line
Current as of October 1, 2023

(*) The PDF Time Table for printing is also available.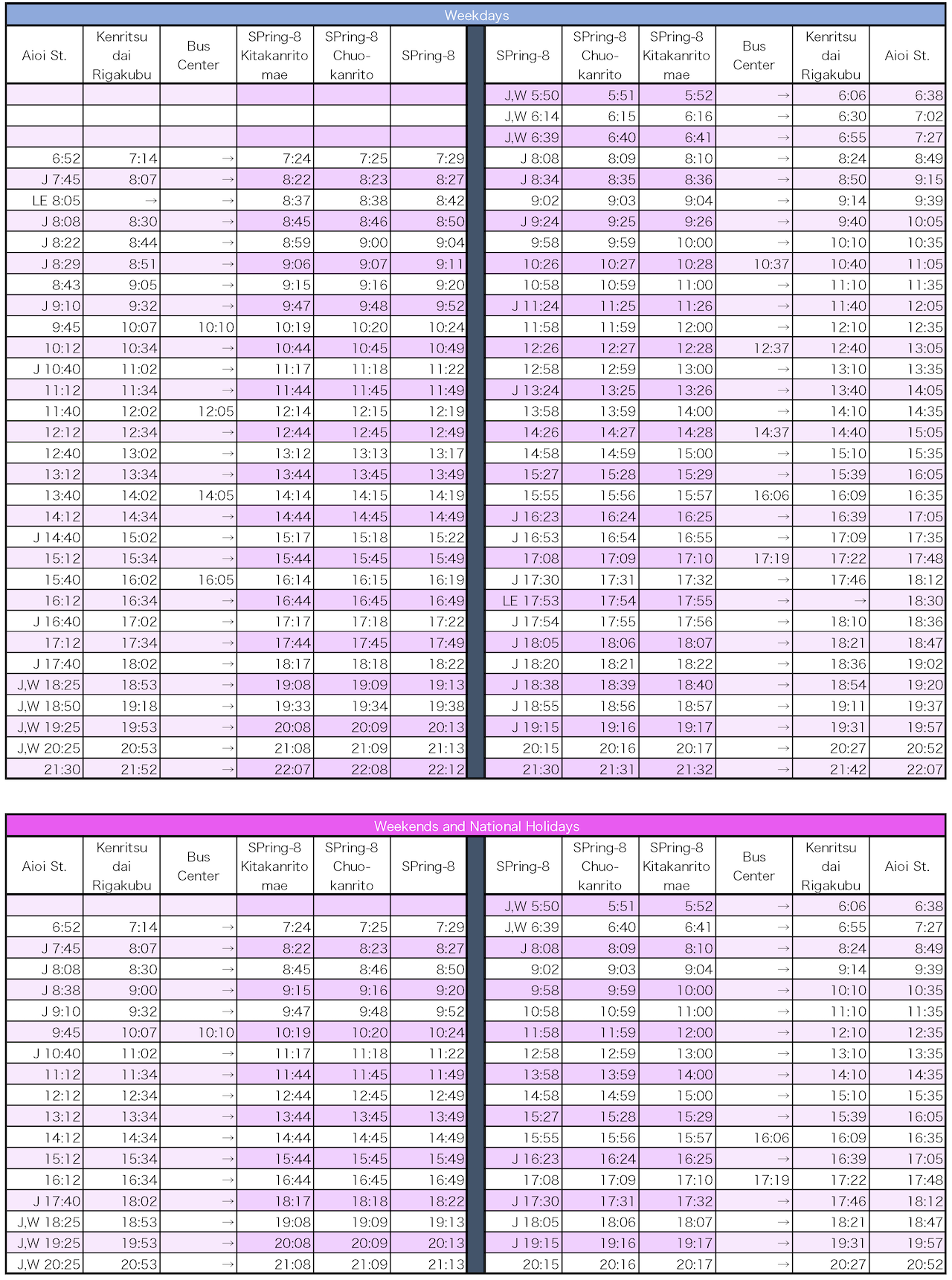 J: via Sogo-chosha-higashi and Harimakogen-higashi-chugakko
W: via Wakasano
LE: Limited express
Bus Fare
Bus Stop
Fare
Harima-Shingu Station
SPring-8
610
Aioi Station
SPring-8
730 yen
Aioi Station
Hyogo Ion Beam Medical Center
700 yen
Aioi Station
Sogo-Chosha-Nishi
680 yen
Aioi Station
Shibahu-Hiroba
680 yen
Aioi Station
Kenritsudai Rigakubu
680 yen
HIMEJI Station
SPring-8
1,200 yen
HIMEJI Station
Shibahu-Hiroba
1,150 yen
Information on free shuttle service (only for CAST guests, reservation required)
From this center, we will try trial cars exclusively for guests as follows.
For those who wish to transfer, please contact the CAST office 2 days before arrival, 17:45.
Center for Advanced Science and Technology Hyogo (CAST)
Phone:+81-791-58-1100
Guesthouse Reservation (CAST) :https://cast.jp/english/reservation.html

SPring-8 Direction
CAST
Depart
SPring-8
Rehabilitation
hospital
Particle Radiotherapy
Center
CAST
Arriving
08:00
08:06
08:10
08:13
08:20
18:00
18:06
18:10
18:13
18:20
Express: HIMEJI Station - SPring-8 Line
※The service was suspended with the last bus on Friday, March 31, 2023.
Information
Get off at the Bus Stop "Kenritsudai Rigakubu" to get University of Hyogo (UH) and CAST for meetings, lodging, meals etc.
Get off at the Bus Stop "Shibahu-Hiroba" to get Convenience store, Koto-Plaza for Bank ATM's, Post Office, PR Office, Medical Clinic, Dental Clinic, Drug Store, Market, restaurants etc.
Around Techno Click here for useful information on the SPring-8 area