高エネルギーX線マイクロビームを用いた重金属蓄積植物の分析
Inquiry number
SOL-0000001576
Beamline
BL37XU (Trace Element Analysis)
Scientific keywords
| | |
| --- | --- |
| A. Sample category | biology, medicine |
| B. Sample category (detail) | |
| C. Technique | fluorescent X-rays |
| D. Technique (detail) | XANES, trace-element |
| E. Particular condition | microbeam (1-10 µm) |
| F. Photon energy | X-ray (4-40 keV), X-ray (> 40 keV) |
| G. Target information | chemical state, local structure, elemental composition, trace element, elemntal mapping |
Industrial keywords
| | |
| --- | --- |
| level 1---Application area | others |
| level 2---Target | |
| level 3---Target (detail) | |
| level 4---Obtainable information | element distribution |
| level 5---Technique | |
Classification
Body text
この事例は,高エネルギーマイクロビームを利用して,カドミウム蓄積植物について調べたものです。ミクロンレベルの分解能が得られることにより,毒性金属の植物体内での代謝についての知見を得ることを目的としています。
図に示すのは,トライコームと呼ばれる葉の表面に生えるひげのようなものの蛍光X線イメージング結果です。小さなトライコームの中にも関わらず,カドミウムの分布が亜鉛などと異なっていることがわかりました。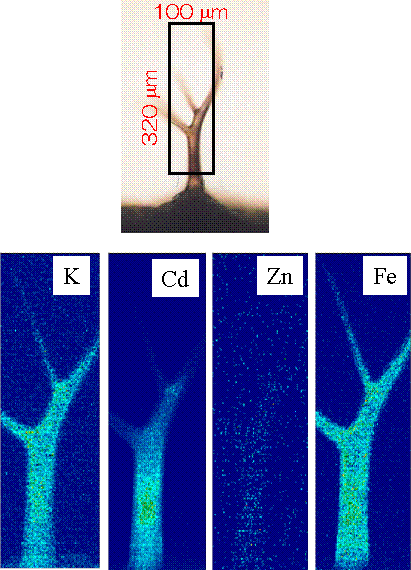 図 トライコームの蛍光X線イメージング
Source of the figure
Private communication/others
Description
Technique
マイクロビームに関しては事例:全反射ミラーを用いた高エネルギーX線マイクロビーム を参照して下さい。この事例ではX線エネルギー37keVで1.5ミクロン程度のビームサイズが実現されています。
Source of the figure
No figure
Required time for experimental setup
1 shift(s)
Instruments
| Instrument | Purpose | Performance |
| --- | --- | --- |
| 高エネルギーX線マイクロビーム調整装置 | マイクロビーム生成 | ビームサイズ1ミクロン程度 |
References
Related experimental techniques
Questionnaire
The measurement was possible only in SPring-8. Impossible or very difficult in other facilities.
This solution is an application of a main instrument of the beamline.
This solution is application of a new instrument installed in the past two years.

Ease of measurement
Middle
Ease of analysis
How many shifts were needed for taking whole data in the figure?
More than ten shifts