Inquiry number
INS-0000001375
ABSTRACT
The beamline 47XU was designed for application to various imaging technologies. Therefore high flux density and clean X-ray beam can be used.
BL47XU is mainly used for the experiments of micro-tomography in the hard X-ray region. However, some space is left for any kinds of experiments which require high flux and/or clean X-ray beam.
AREA OF RESEARCH
Materials sciences
X-ray optics
Planetary science
Any fields are welcome...
KEYWORDS
Experimental techniques
Micro-tomography
Microbeam applications (micro diffraction, scanning microscopy)
Equipments
High spatial resolution micro-tomography system,
High spatial resolution X-ray image detector (BM2, BM3),
High precision diffractmator, Flexible experimental table, Fresnel zone plate (FZP),
Silicon drift detector (SDD), Free-spaced experimental hutch (EH1),
Clean booth for sample preparation
SOURCE AND OPTICS
The light source is standard-type "in-vacuum" planar undulator. The periodic length is 32 mm and the number of the period is 140. The fundamental radiation covers the energy range from 5.9 to 18.9 keV by tuning the gap from 9.6 to 50.0 mm.
A front-end slit is placed at 28.9 m from the source point.The maximum aperture is 1mm × 1mm.
Monochromator is "SPring-8 standard" double crystal monochromator placed at 36 m from the source point. The liquid nitrogen cooling system developed at this beamline is employed. The range of rotatable angle is 3 - 22 degree. That is correnpond to 37.7 - 5.2 keV with Si(111) symmetric Bragg reflection.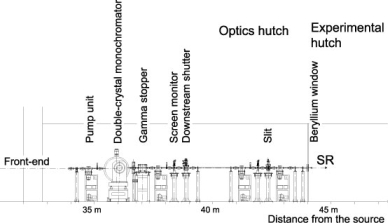 Fig.1. Schematic view of optics hutch.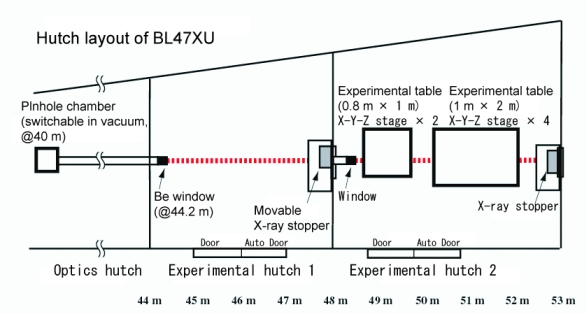 Fig.2. Layout of experimental hutches.
X-rays at Sample

Energy range
5.2 ∼ 37.7 keV
Energy resolution
ΔE/E ∼ 2 × 10-4(@E = 18 keV)
Photon flux
2 × 1013 ph/s
(@E = 18 keV, @100 mA)
Beam size (FWHM)
1.2 mm(H) × 0.3mm(V)
(@E = 18 keV, @40 m from source)
EXPERIMENTAL STATIONS
Two hutches (experimental hutch 1 and 2) are available. Location of these hutches is shown in Fig. 2. A clean booth for the sample preparation is located near the experimental hutch 2.
PUBLICATION SEARCH
* Sorry, Some parts of results are displayed using Japanese characters.
CONTACT INFORMATION
Please note that each e-mail address is followed by "@spring8.or.jp."

Kentaro UESUGI
SPring-8 / JASRI
1-1-1 Kouto, Sayo-cho, Sayo-gun, Hyogo 679-5198
Phone : +81-(0)791-58-0833
Fax : +81-(0)791-58-0830
e-mail : ueken
Masahiro YASUTAKE
SPring-8 / JASRI
1-1-1 Kouto, Sayo-cho, Sayo-gun, Hyogo 679-5198
Phone : +81-(0)791-58-0833
Fax : +81-(0)791-58-0830
e-mail : m.yasutake
Hiroo TAJIRI
SPring-8 / JASRI
1-1-1 Kouto, Sayo-cho, Sayo-gun, Hyogo 679-5198
Phone : +81-(0)791-58-2750
Fax : +81-(0)791-58-0830
e-mail : tajiri
Kentaro KAJIWARA
SPring-8 / JASRI
1-1-1 Kouto, Sayo-cho, Sayo-gun, Hyogo 679-5198
Phone : +81-(0)791-58-2750
Fax : +81-(0)791-58-0830
e-mail : kajiwara
Last modified
2022-05-09 15:51