Elucidation of the atomic structure of the motor protein Dynein (Press Release)
Release Date

08 Mar, 2012
BL44XU (Macromolecular Assemblies)
– The protein structure with the longest peptide chains has been revealed –
Osaka University
Summary of presentation
 The research group led by Associate Professor Takahide Kon and Professor Genji Kuris (both at the Institute for Protein Research, Osaka University), in collaboration with researchers at Tokyo University and Waseda University, has determined the molecular level structure of the motor protein Dynein, which powers intracellular transport of various substances. The research revealed a part of the motility mechanisms the macro molecular motor makes use of for "walking" inside the cell: the use of long leg-like structures.
Structural elucidation of the protein molecule was carried out utilizing the data collected through the use of the beam line BL44XU installed by Osaka University at the SPring-8. The results updated the record of the longest polypeptide chains that have been structurally determined up to now. The study results were published on Advanced Online Publication of the U.K. science journal Nature on the 8th of March (JST), ahead of the normal printed publication.
Publication:
"The 2.8 Å crystal structure of the dynein motor domain"
Takahide Kon, Takuji Oyama, Rieko Shimo-Kon, Kenji Imamula, Tomohiro Shima, Kazuo Sutoh and Genji Kurisu
Nature, Published online 07 March 2012
---
<<Figures>>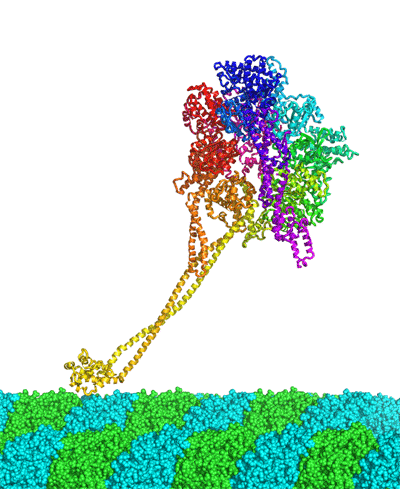 ---
For more information' please contact:
   Prof. Genji Kurisu (Institute for Protein Research, Osaka University)
   E-mail:

Previous Article
Current article

Elucidation of the atomic structure of the motor protein Dynein (Press Release)