問い合わせ番号
INS-0000000364
ABSTRACT
BL23SU is a soft X-ray undulator beamline of Japan Atomic Energy Agency (JAEA) . It has been constructed for a wide variety of scientific research areas, surface chemistry, biophysical spectroscopy and solid state physics. The experimental stations are located at the experimental hall and the RI building.
AREA OF RESEARCH
Surface chemistry with supersonic molecular beam
Biophysical spectroscopy
Photoelectron spectroscopy (activity at RI laboratory)
Magnetic circular dichroism (activity at RI laboratory)
KEYWORDS
Scientific field
Surface chemistry, Chemical reaction dynamics, Real-time in-situ photoemission spectroscopy (Station 1)
DNA damages, Transient radical species, Photon stimulated desorbed ions (Station 2)
Photoelectron spectroscopy, Strongly-correlated electron system, Uranium compounds (Station 3)
MCD, XAS, Strongly correlated electron system, Magnetic property (Station 4)
SOURCE AND OPTICS
Light source

A double-array variable undulator, so-called APPLE-2 (advanced planar polarized light emitter) or Sasaki-type which produces both linearly and circularly polarized soft X-rays is used as a light source. ID23 can generate a linearly (horizontal and vertical plane), an elliptically or a circularly polarized radiation by phase shift. The most unique performance of the undulator is the switching of right-circular-polarization(RCP) and left-circular-polarization (LCP) radiation by periodic phase shift of the magnet rows. The highest mechanical switching rate is at the frequency up to 0.5 Hz.
Schematic view of beamline and monochromator system

The main optics is a varied - line - spacing plane grating type (VLSPG) monochromator. This consists of an entrance slit, spherical mirrors, varied-line-spacing plane gratings, an exit slit, a post-focusing mirror, and refocusing toroidal mirrors. The soft X-rays are guided over 120 m from the undulator, crossing the two areas (experimental hall and RI hall).

Undulator period
120 mm
Number of periods
16
Tunable energy range
0.5 ∼ 1.5 keV
(Circular polarization)
Brilliance
3 × 1017 ph/s/mrad2/mm2/0.1%b.w.
at 1 keV (Circular polarization, photon energy)
X-rays at sample

| | |
| --- | --- |
| Energy Range | 0.35~ 1.8 keV |
| Energy resolution | E/ΔE > 10000 |
| Photon flux | 1011 ph/s/0.02%b.w. |
| Beam size | < 0.2 diam. |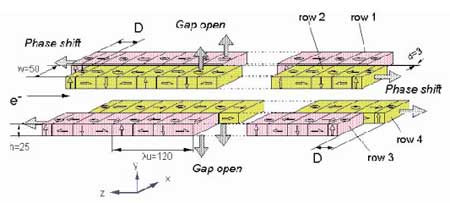 Fig. 1 The magnetic structure of the APPLE II consists of two pairs of arrays of permanent magnets
Optics :
Distance from the source

Optical element
Function
40 m
Cylindrical mirror (Mv)
Vertical focusing at the entrance slit
42.5 m
Cylindrical mirror (Mh)
Deflection and horizontal focusing
50 m
Entrance slit (S1)
60.1 m
Spherical mirror (M1, M2)
61.91 m
Constant deviation monochromator with varied-space plane gratings (VLSPG)
Monochromatizarion
71.91 m
Exit slit (S2)
73.91 m
Cylindrical mirror (M3)
Post focus
114 m
Troidal mirror (M4)
Refocus
EXPERIMENTAL STATIONS
PUBLICATION SEARCH
* Sorry, Some parts of results are displayed using Japanese characters.
BL23SU PUBLICATION SEARCH
CONTACT INFORMATION
Please note that each e-mail address is followed by "@spring8.or.jp."
Shin-ichi FUJIMORI
Japan Atomic Energy Agency, Sector of Nuclear Science Research Materials Sciences Research Center
1-1-1 Kouto, Sayo-cho, Sayo-gun, Hyogo 679-5148
Phone : +81-(0)791-58-2604
Fax : +81-(0)-791-58-2620
e-mail : fujimori
Website