Accommodation Facilities for Users

Guest House
The Guest House provides accommodation for users conducting experiments at the SPring-8. To stay at the Guest House, users need to make a reservation in advance. For details, please click here.
Cafeteria
The cafeteria is the only place to eat on the SPring-8 campus. Please use the cafeteria to take a break during experiment as well. The cafeteria offers a selection of food: Japanese, Western and Chinese food, noodles, curry, etc. Payment has to be made by a rechargeable prepaid card. Please load money onto the card using the machine located just inside the entrance before use. When using the machine, please follow the instructions indicated on the machine.
Cafeteria Open Hours
Breakfast (8:00 - 9:30 am)
Lunch (11:30 am - 2:00 pm)
Dinner (5:30 - 7:30 pm)
Kirari (shop)
Kirari is located in Cafeteria and opens from 10:30 am to 3:00 pm and from 5:00 pm to 8:00 pm on weekdays. The store has snacks such as bread, rice balls and sandwiches, chips, daily necessaries, stationery, newspapers/magazines, West Harima's local specialties, SPring-8 goods, etc. Copy and fax services are also available. For details, please visit the Kirari website (available only in Japanese).
Reference Room
The Reference Room is located adjacent to the A2 door of the Storage Ring building and available to users around the clock. Only in the Reference Room, Staff or users can search or look through books and scientific journals.
The Reference Room also offers database services by which you can search the JCPDS data (database for X-ray powder diffraction files) through the computer in the Reference Room.

Campus Map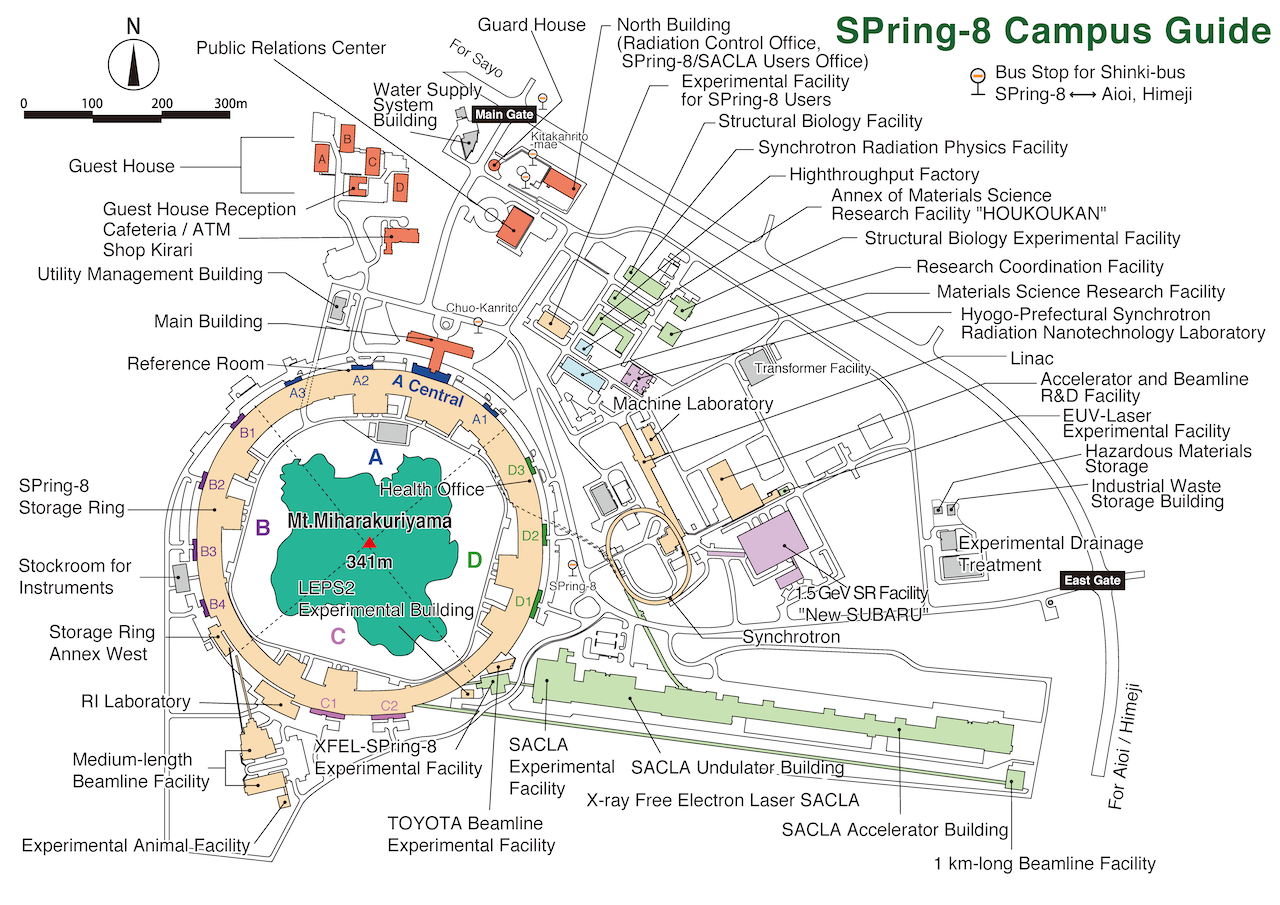 Last modified
2017-07-18 10:23